What's going on everyone, Mike here and in this post we're having side by side the recently announced Samsung Galaxy Alpha and the Apple iPhone 5S. The latter needs no introduction, but the Alpha is the first of the long-awaited Samsung smartphones with a metallic body.
Well, partially metallic, as the Alpha gets an aluminum frame with beveled sides, similar to the ones of the iPhone.
The Alpha is a mid-sized Android handset and at the same is very light, pretty much as light as the iPhone 5S, despite packing a much larger screen, bigger battery and so on. Still, thanks to its looks and feels in hand, I believe this Galaxy is one of the best choices one could make if planning to switch from an iPhone to any higher-end Android smartphone.
There are of course more powerful options out there and devices with extra features, but very few got the aesthetics, the ergonomics and the lightweight of this one.
Samsung Galaxy Alpha vs Apple iPhone 5S video comparison
Design and first contact
Like I mentioned above, the Alpha gets an aluminum frame. We should note that the metal is thicker towards the top and the bottom of the phone though and slimmer on the sides, which should make the corners tougher and also somewhat reduce the device's overall width. The iPhone on the other hand sports a simpler line, with a fully metallic body.
Even its back is mostly made out the aluminum, flanked by two glass elements at the top and bottom, while the Alpha's is still made of a polycarbonate. I personally don't mind though, this soft back makes the phone grippier and at the same time is removable, allowing access to a replaceable battery, something you won't find on the iPhone. But if you were hoping for a completely metallic Samsung smartphone, well, that's not the Alpha.
The iPhone remains of course much smaller than its Samsung rival, since it only packs a 4 inch screen. That makes it easier to grip and use single-handedly, but the larger 4.7 inch display on the Galaxy has its benefits. Let's face it, a 4 inch screen is really tiny these days, and Apple agrees as well, since their next iPhone 6 is going to get a 4.7 inch display.
These two handsets are also very slender, some of the slimmest out there right now, and very light, both tipping the scales at around 115 g. Besides these, the do offer pretty much the same features and buttons, including physical Home keys that include fingerprint-scanners. The Alpha gets a few extra goodies, including a notification LED and the hear-rate sensor on its back, but I don't think these are going to really make a difference between them for any of you.
Screen
Back to those screens, it's worth noting that the Alpha sports an AMOLED panel with 1280 x 720 px resolution, which translates in deep blacks, good contrast and over-saturated colors, but also in a slightly poor pixel-density, which makes pixels visible when dealing with texts.
The iPhone on the other hand packs one of the best displays you can find on any handset these days, with a bright and popping IPS panel. It's lower resolution shouldn't concern you, as it is corroborated with a smaller display.
Hardware and performance
When it comes to the everyday experience, these phones are both fast and reliable.
One runs iOS 7, one runs Android 4.4 KitKat. One is basic and simple, the other is complex and stuffed with features, one gets access to the App Store, the other to the Google Play store. We're not going to compare the two sides here, each has its own share of particularities, and most of you should be fine with either side, unless you're using a specific app or feature that's only available in one camp.
It is however worth mentioning that the Alpha encounters no lag and no hiccups, which is quite something for a Samsung smartphone. Its fast processor gets the praises, but also the lower resolution screen and the lighter software package on this tested version, which is a pre-sale unit and not the final retail version.
Hardware wise, the Alpha outmatches the 5S and that's somewhat visible in benchmarks, but not necessarily in daily use. There are however moments when you'll want more RAM on the iPhone though, as modern apps do require a lot of resources these days, but other from that the iPhone is not slacker at all and can handle anything the Galaxy Alpha could, from basic tasks to running games and videos.The Alpha does get a bit warmer under load though, which could bother those of you living in hotter regions.
| | | |
| --- | --- | --- |
| | Samsung Galaxy Alpha specs | Apple iPhone 5S specs |
| Screen | 4.7 inch, 720 x 1280 px, Super AMOLED panel | 4.0 inch, 640 x 1136 px, IPS panel |
| Hardware | Samsung Exynos 5 Octa 5430 + Mali T628 MP6 graphics | Apple A7 1.3 GHz + PowerVR G6430 graphics |
| Memory | 2 GB RAM | 1 GB RAM |
| Storage | 32 GB | 16/32/64 GB |
| Connectivity | 4G/LTE, Wireless AC, Bluetooth 4.0, GPS, NFC | 4G/LTE, Wireless AC, Bluetooth 4.0, GPS |
| Ports | microUSB 2.0, nano-SIM | Lightning, nano-SIM |
| Cameras | 12 MPx main camera, 2.1 MPx front camera | 8 MPx main camera, 1.2 MPx front camera |
| Battery | 1860 mAh, removable | 1560 mAh, removable |
| OS | Android 4.4 KitKat | iOS 7.1 |
| Size | 132.4 x 65.5 x 6.7 mm (5.21 x 2.58 x 0.26 inches) | 123.8 x 58.6 x 7.6 mm (4.87 x 2.31 x 0.30 inches) |
| Weight | 115 g (4.06 oz) | 112 g (3.95 oz) |
| Others | metallic edges, side-mounted speaker, 4K video recording | side-mounted speaker, aluminum and glass body, TouchID |
Besides these, I should mention that neither of these phones will allow you to expand their storage space. The Galaxy Alpha is only available in a 32 GB version, while the iPhone offers 16, 32 or 64 GB of space.
Cameras
Alright, that out the way, let's turn our attention on the cameras.
The iPhone 5s offers an 8 MPx main-shooter with a very basic camera interface. But it delivers good pictures and videos in pretty much all conditions. The Samsung's 12 Mpx shooter does a pretty good job as well, especially if there's enough light around, and does offer a handful of shooting modes and the ability to record 4K clips.
There are a few samples for you to check out below. None of them have been edited in any way, but they were cropped and resized to fit the template of our comparison.
Also, you should know that I've used a pre-production model of the Alpha for these pics, so the end results might actually get better on the final retail versions.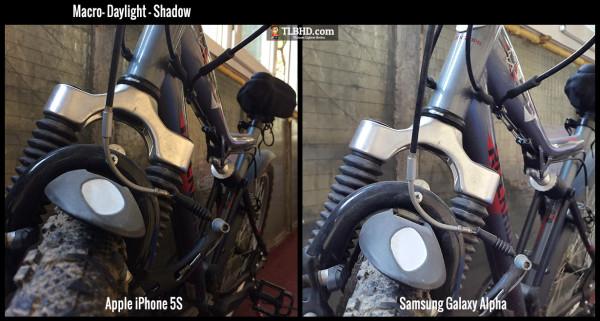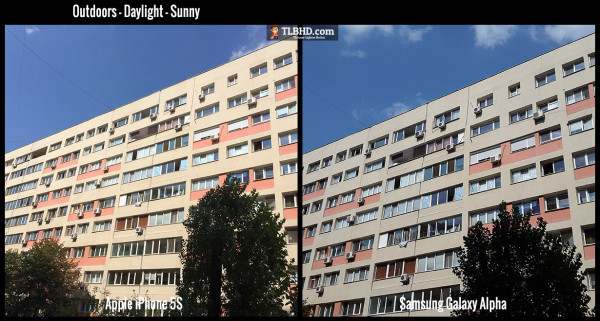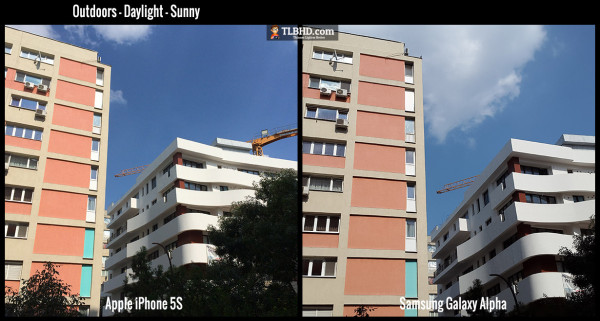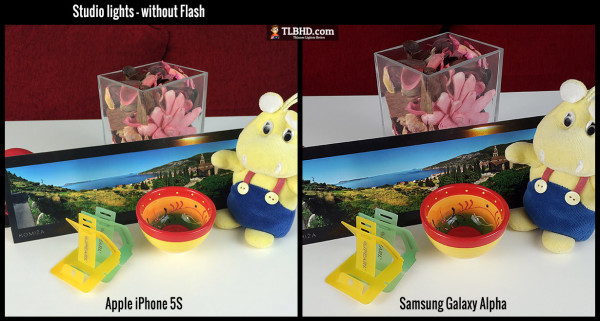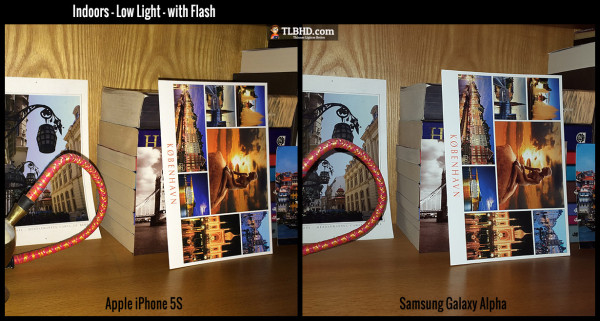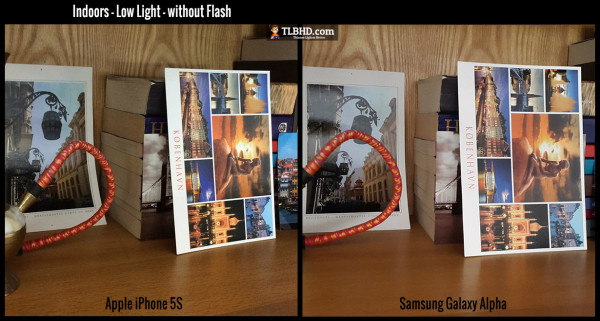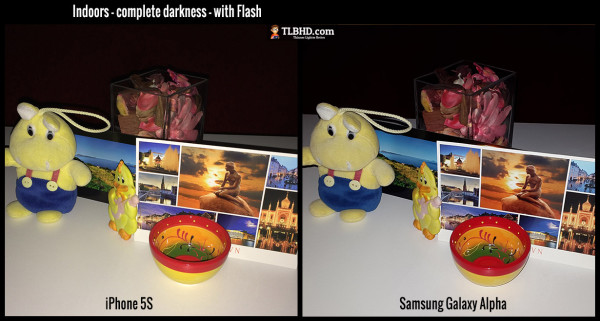 Battery Life
Last but not least there's the battery life.
Both devices feature rather small batteries, but despite that, can actually go for up to 2 days of average use (unplug them this morning and they will last till I go to bed tomorrow night) quite easily, or can get you through the day if you'll push them a bit heavier. And that's actually good enough in my book.
It's worth mentioning that the battery is replaceable on the Alpha, so you can pop it out and switch it with a new one if really needed, while on the iPhone that's not an option. There's also an Ultra Power Saving mode on the Galaxy for really desperate times, so there are ways to squeeze more from the Alpha when really needed. On the 5S you can only rely on external power banks if there's no wall-socket around.
Wrap-up
At the end of the day, the iPhone 5S is not really the rival the Galaxy Alpha will have to face in the months to come, that status is reserved for the next gen iPhone 6, who match it in terms of size.
But if you're considering picking one of these two two, here's what you should know: the iPhone 5S is the more premium looking device here and offers an overall more reliable camera. It's also much smaller, thus easier to use single handedly.
The Galaxy Alpha is one of the lightest top-tier Android smartphones of the moment and feels and performs admirably, for a Samsung device. It's fast, it runs the latest version of Android and is stuffed with all sort of features. But it compromises when it comes to screen resolution and battery size, that's why it is not an Alpha dog in its pack. Still, if you like it and understand where it falls a bit short, it could be a good pick, especially if the price is right.
And I do consider the Alpha perhaps the ideal switch-phone, the most suited Android handset available right now for those of you that are tired of iPhones and want to give the other camp a chance, as it is slim, nicely built and fast, like an iPhone. Samsung also makes it really easy to move your music, contacts and other content from the iPhone (from your iTunes or iCloud accounts) to the Galaxy, as you'll find from the clip below.
Anyway, it's time to wrap this up. Hopefully this post helped you choose between the iPhone 5S and the Galaxy Alpha. The comments section is open below in case you have any questions on these two devices and my full review of the Galaxy Alpha is also available here on the site, if you're interested.
Disclaimer:
Our content is reader-supported. If you buy through the links on our site, we may earn an affiliate commission.
Learn more.