In this post we're going to have an in-depth look at the Acer Aspire Switch 10 E, a 10-inch Windows tablet with a keyboard dock, that retails for as little as $270 at launch and will probably get even cheaper down the road.
Compact and affordable 2-in-1s have become fairly popular in the last years, mostly because they offer a full-Windows experience in a small form factor, with an attractive price. They are mostly bought by those that need more than games, browsing and movies from their tablet, as they do provide access to all the standard Windows applications and most of them bundle a dock in the pack, with a keyboard, trackpad, extra ports and in some cases, extra storage space.
Acer's Aspire Switch 10 E is one of the simplest solutions in this class and builds on a few important basics: a colorful and well made body, a decent screen, long battery life and an excellent price. Acer had to cut some corners with this one in order to make it as cheap as it is, but for the money, this product is a good buy. The post below will tell you exactly what to expect from it.


Acer Aspire Switch 10 E SW3-013
Screen
10.1 inch, 1280 x 800 px, IPS, touchscreen
Hardware
Intel Atom BayTrail-T Z3735F CPU 1.33 GHz CPU and Intel HD graphics
Memory
2 GB RAM
Storage
32 GB eMMC
Connectivity

Wireless N, Bluetooth
Ports
micro-HDMI, micro-USB, microSD card reader, headphone jack, USB 2.0 on the dock
Cameras
front and back
Battery
30 Wh
OS
Windows 8.1 32-bit

Size
Tablet: 262 x 180 x 11 mm (10.3" x 7.1" x 0.43")
Tablet + Dock: 262 x 180 x 21 mm (10.3" x 7.1" x 0.81")
Weight
Tablet: 632 g (1.39 lbs)
Tablet + Dock: 1136 g (2.510 lbs)
Others
available in multiple colors, docking station included, with keyboard, trackpad, USB 2.0 slot
The Video Review
Design, exterior and first look
The device is entirely made out of plastic and it's fairly bulky and heavy for a 10 incher, especially when compared to some of the latest entries in its class. The tablet alone weighs around 1.4 pounds, which is rather hefty for a 10 incher and isn't as comfortable to hold as some of the lighter options, while the tablet and the dock together weigh 2.5 pounds.
The plastic body is surprisingly well built though, with a nice texture. Plastic is still plastic and the case will still squeak when squeezed firmer, but overall the build quality is fairly good nonetheless, for a device in this price range, of course.
The case will be available in a bunch of different lively colors as you can see in the pictures below, and these will surely appeal to the younger audience. I only got to test the dull gray version here, but I saw the others in person at the launch event.
The bulkier and heavier body has a few benefits. First of all, there was room for a large battery inside the case and second, the slate runs very cool, even when looping 1080p movies for hours or browsing between many different Tabs, which are some of the most intensive chores you should expect to perform on such a device. A full-size USB slot on the slate would have been nice, but there isn't any. Instead, you'll have to rely on a microUSB slot, a microSD card-reader and micro-HDMI for video output, alongside the microphone/headphones jack.
Dock, keyboard and trackpad
There is however an USB slot on the dock, but no extra battery or the electronics for a HDD, at least not on this particular model that I got to test. Other 10 inch Windows slates offer the ability to put a HDD or SSD in the dock and the fact that this Switch 10 E lacks it could be a deal breaker, since the included 32 GB eMMC  is barely enough for Windows. You can expand the storage with a microSD card, but that's going to be slow.
BTW, It's also worth noting that the dock only works when connected to the tablet. Acer designed a new latching mechanism for this device, with a smarter connector and magnets that make the process of binding and unbinding the tablet and the dock far smoother than with their previous solutions. The hinge is fairly strong and it does allow the display to lean back a fair amount. The ensemble is top-heavy though, as the slate is heavier than the dock, and that will make it fall on its back easily. For couch use or anything besides desk use, the larger angle will come in handy.
If you're interested in typing on this thing, you should know that the keyboard provides a fairly good experience and feedback, although the keys are shrunk down and that will be an inconvenience for those of your with larger hands. They are also a bit short, feel rather cheap and lack illumination. The layout is decent, not perfect though, as some keys are missing, like the right CTRL. My test model came with an European layout which offers a minuscule left Shift, but the US versions should not have this problem.
There's also a clickpad below the keyboard, which works, to my surprise, smoothly and accurately. It was able to handle taps well and gestures most of the time, although occasionally swipes from the sides failed to be interpreted correctly. If I'm to complain about something though, I'd say physical clicks are rather clunky and noisy, but that would be my only gripe here.
Screen
The Switch 10 E gets, as the name suggests, a 10.1 inch touchscreen, with an IPS panel, but not necessarily the best one. The 1280 x 800 px resolution isn't a surprise for a device in this price range, but some of you might find it too low, especially if you're already used to other devices that offer higher density displays.
That aside though, the screen is bright, offers fairly good viewing angles and surprisingly accurate colors. It only covers a small percentage of the color gamut though, so it's not recommended for color accurate work, but for browsing, movies and pictures it's more than adequate. So while Acer did have to sacrifice the resolution here, they still bundled a surprisingly good display on this low-price device.
Check out the numbers below for more details:
Panel HardwareID: AUOptronics AU015D4
Coverage: 72% sRGB, 53% NTSC, 55% AdobeRGB;
measured gamma: 2.0;
max brightness in the middle of the screen: 314 cd/m2 on power;
contrast at max brightness: 770:1;
white point: 6700 K;
black on max brightness: 0.41 cd/m2;
average DeltaE: 1.05 uncalibrated, 1.03 calibrated .
Hardware and daily use experience
Hardware wise one could say this product is dated, since it is built on hardware launched more than a year ago and bundled on 10-inch slates in 2014.
In fact, the hardware platform is identical to the one on Acer's 2014 Aspire Switch 10, with the Intel Atom Z3735F processor, 2 GB of RAM and a 32 GB eMMC. The storage solution is fairly speedy for what it is, but the limited space provided will quickly become a problem, as mentioned before. Nor the RAM or the eMMC can be upgraded, and only a 32-bit version of Windows is included with the device.
Even so, the platform is capable of running most Windows programs and daily tasks, as long as you keep things as basic as possible. That means you'll have to keep multitasking at bay and don't plan to run games or anything very complex. It will handle browsing well though, movies, music, emails and Office activities, but preferably not all at once, and you'll have to get used to occasional delays or stuttering.
There is a fair amount of bloatware preinstaled on this thing out of the box though, and I advise you to uninstall the Acer apps, McAfee and all the trials included in order to make it speedier.
The device offers Wi-Fi and Bluetooth, and while the Wireless chip is not the fastest out there, it handled downloads and streaming smoothly even when getting a bit further away from the router. In fact, the difference between using the tablet right near it and at 30 feet with two walls in between is minimal in this case.
The multimedia experience is enhanced by two front facing speakers placed below the screen, behind two narrow cuts in the glass. Both the audio quality and the average are average.
A webcam is placed on top of the screen, rather blurry for my liking, especially in poor light, and there's also a main-camera on the back, which I barely used at all though.
As a side note, the Switch 10 E is bundled with a free Office 365 Personal subscription for one year, as well as 1 TB of OneDrive storage space, which are both good news, but at the same time something available on most other similar devices. These services will cost you $69.99/year if you want to keep using them once the license expires.
I ran a couple of benchmarks on the Switch 10 E if that's of any help, they are included below:
CineBench 11.5 32bit: OpenGL 5.88 fps, CPU 1.03 pts, CPU Single Core 0.29 pts;
x264 Benchmark 4.0: Pass 1 – 35.42 fps, Pass 2 – 6.81 fps;
Octane 2.0 on Chrome: 6273 points.
I also tested how the hardware performs in standard everyday use scenarios (light and heavy browsing, 1080p streaming, playing a 1080p mkv stored internally, etc) and the results are accessible in these next pictures.
You'll notice that the hardware keeps within very low temperatures in all cases, and the same can be said about the outer case which barely gets warm under heavier use, a benefit of the larger body.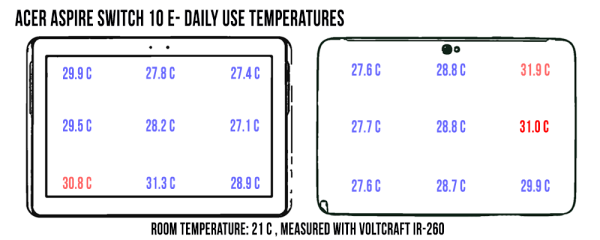 *Daily Use – 1080p Youtube clip in IE for 30 minutes
Battery Life
Acer put a 30 Wh battery inside this tablet, a step-up from the 22 Wh one in their 2014 Switch 10. The implementation is not very efficient though and will offer around 5 to 8 hours of daily use in most cases, but the truth is I was expecting a bit more. I'm also reviewing an Acer Transformer Pad Chi T100 these days which packs a higher density screen and faster hardware, which proved to be more efficient and last year's Transformer T100TA was also more efficient than this Acer Swtich 10 E. Hopefully final retail units will actually do better.
Even so, most of you should be happy with what I got on this test sample (the screen was set at around ~40% brightness, which is around 120 nits; there are no multiple Power Modes to choose from on this implementation, so everything was tested on the default Mode):
3 Wh (~10 h of use) – idle, screen at 0%, Wi-Fi OFF;
4.5 Wh (~6 h 30 min of use) – very light browsing and text editing in Google Drive, screen at 40%, Wi-Fi ON;
7 Wh (~7 h 30 min of use) – 1080p fullscreen video on Youtube in Internet Explorer, screen at 40%, Wi-Fi ON;
5 Wh (~6 h of use) – 1080p fullscreen .mkv video in VLC Player, screen at 40%, Wi-Fi ON;
6 Wh (~5 h of use) – heavy browsing in Internet Explorer, screen at 40%, Wi-Fi ON;
5.5 Wh (~5 h 30 min of use) – 1080p fullscreen video on Youtube in Chrome, screen at 40%, Wi-Fi ON.
As a side note, the battery took a very long time to charge on this particular unit, north of 5 hours. The device does charge via microUSB and that takes its sweet-time, but even so, it shouldn't take longer than 3 hours for a full recharge, so I'd reckon something was wrong with this particular version I got to review.
On the other hand, the 3-feet USB cable included in the pack is annoyingly short and meant that charging and using the device at the same time wasn't a pleasant experience at all, an issue documented on many 10-inch Windows slates launched in the last years and still ignored here.
Pricing and conclusions
All these being said, at the end of the day the Aspire Switch 10 E is surprisingly good for how much it costs.
It's not without limitations, and some you'll know from the beginning, like the bulkier body, plastic case, HD only display or the inability to take a HDD inside the dock. And some you'll find out while using it, like the fact that it's top heavy or the fact that the battery takes ages to load and the included USB cable is annoyingly short. But when you take a few steps back and look at the greater picture, you'll realize you're getting a nice little machine for the money.
As I mentioned in the beginning, the Acer Aspire Switch 10 E has an announced MSRP of $269.99 and will surely get cheaper down the line. Follow this line for more details and up-to-date prices at the time you're reading this post.
In fact, I feel Acer needs to make this cheaper than $270 if they plan to sell it in great numbers. Last year's Acer Aspire Switch 10 or the Asus Transformer Book T100TA offer pretty much the same features in slimmer and lighter bodies, plus the ability to house extra storage in the docks, for under $250 at the time of this post, despite the fact that they used to retail for around $400 at launch. The new Switch 10 E compensates with a larger battery, but it's not enough to justify the higher price, at least not in my eyes.
That's why down the line I'll expect to see the Switch 10 E selling for a little over $200, and when that happens, it will be an unbeatable bargain.
With that in mind, it's time to wrap this up. Get in touch in the comments section if you have anything to add to this post or if you have any questions about the Acer Aspire Switch 10 E. And if you're interested in alternatives, this post about the best 10 inch Windows tablets and mini laptops is the best way to start your search.
Disclaimer:
Our content is reader-supported. If you buy through the links on our site, we may earn an affiliate commission.
Learn more.