Hi everyone, Mike here and in this video we're going to talk about the Asus EeeBook X205TA / X205, which is a brand new compact laptop selling for only $199 (actually, it's even cheaper now than initially announced).
There are a few other notebooks that go for around the same amount of money these days, like the 11 inch Acer Chromebooks. But this one comes with Windows 8.1 and that allows it to run most of the software you're already familiar with from your other computers.
Well, at least to some extent, as the X205 is not a power-horse, not by far. But we'll get to that in a few second.
First though, check out the specs sheet, so you'll know what to expect from this laptop, and also the video review, if you don't feel like reading the block of text (however, some details are not included in the video).
Later update: Asus have recently launched updated EeeBooks and a handful of other ultra-compact laptops, which we've covered in these follow-up articles: this one about sub-12-inch mini laptops, this one about modern ultrabooks, and this one about modern and affordable ChromeBooks.
The X205TA is not yet available in stores at the time of this post, but the unit I've tested is pretty much identical to what you'll be able to buy in a few weeks.
| | |
| --- | --- |
|   | Asus EeeBook X205TA spec sheet |
| Screen | 11.6 inch, 1366 x 768 px, TN |
| Hardware | Intel Atom BayTrail-T Z3745D CPU and Intel HD graphics |
| Memory | 2 GB RAM |
| Storage | 32 GB flash-storage |
| Connectivity | Wireless N, Bluetooth |
| Ports | 2x USB, micro-HDMI, microSD card reader, proprietary PSU, headphone jack |
| Battery | 38 Wh |
| OS | Windows 8.1 |
| Size | 288 mm or 11.3 in (L) x 196 mm or 7.7 in (W) x 18 mm or 0.70 in (H) |
| Weight | 954 g (2.10 lbs) |
| Others | stereo speakers, available in several colors, webcam |
The Video Review
Hardware and daily use
The EeeBook X205TA is primarily meant for light everyday activities. It can then handle browsing between a couple of different tabs, watching video content and listening to music, editing some texts and maybe some pictures as well. It can run Microsoft's Office suite (does come with a Trial version of Office that requires activation and the final release versions will include a 12 month Office 365 Personal license) and software like Adobe Photoshop if you want to, just make sure you're not going to ask too much out of it, as it will choke easily if pushed.
And that's because this EeeBook is built on an low-power high-efficiency hardware platform, with an Intel Z3745D processor, bundled with 2 GB of RAM and 32 GB of storage, which can actually become a problem quite fast. Both the RAM and eMMC storage are soldered and NOT upgradeable.
The thing is you're not left with a lot of spare space after having Windows installed (roughly 14 GB), so Asus definitely had to cut a corner here to meet the low price tag. And that leaves you with two options: either use the included cloud space offered for free in Asus's WebStorage environment, or expand the storage space with the help of a microSD card.
To be frank, I was a bit disappointed this laptop does not support standard sized SD cards, that would have been useful for downloading pictures from my cameras while on the go, but that's probably not such a big deal for most potential buyers.
Overall though, the X205 is a fairly capable little fellow and it can do a lot of things for you.
The daily experience is enhanced by the loud and punchy speakers placed on the belly, but towards the front of the chassis and by the fact that this runs completely noiseless, since it houses no fans and no moving parts inside.
The Wi-Fi chip is fairly capable of well. It can't match my Internet speed, going to only about 30 Mbps near the router, but at least the speed and signal strength don't drop away fast as you step a bit further. I was able to stream 1080p video content with no buffering and download all sorts of things of the Internet without feeling slow, and in my book that's good enough for a computer that only sells for $199.
The laptop's belly has no cooling cuts in it, and none are in fact needed, which leads to a simple and beautiful design. You can take it apart by unscrewing the 12 or so regular Philips screws that hold in place and that gives you access to the internals.
However, it won't help much, as everything seems to be soldered on the motherboard. In fact, you can see how small the MB is and how most of this laptop is occupied by the battery, which is also hold in place by a few screws and could be replaced down the line, if needed (and if Asus or third parties will provide replacements).
I was hoping to be able to upgrade the storage, but there seem to be no dedicated storage stick like on some of the other mini-laptops I've tested, so there's no way to up the 32 GBs through a hardware upgrade. At least none that I can tell of, and that's a bit annoying, as the 32 GB of space is hardly sufficient for a Windows 8.1 laptop. You could try to go the Linux road. I planed to try Ubuntu or Mint on this myself, but my Linux knowledge is virtually null and I did not have the time to do it this time. Hopefully in the next few weeks.
One final thing I was looking to mention here are temperatures and performance under load. The X205's case remains cool under light use and the temperatures won't reach for the stars when running the Prime95+Furmark stress-test either. You can see the numbers in the pictures below.
It could be worth mentioning that the internals get to about 80 C under stress and both the CPU and the GPU run and sub-default frequencies (around 900 Mhz for the CPU and 300 Mhz for the GPU), but these should not matter much for the average buyer Asus targets with this laptop, who should understand from starters the the X205 is meant for light casual activities, and not serious chores or multitasking.
Keyboard and trackpad
The typing experience is not bad on the X205 and is helped by a fairly good keyboard and a nice typing position, thanks to the roomy palm-rest and the laptop's low profile.
The keys are firm and offer decent travel and feedback, for this size range of course, but they do feel a bit cheap to touch, plasticky. And besides these, the layout is vertically cramped, as Asus opted for shorter rectangular keys and not the square keys I was expecting, and the arrow keys are small, just like on the older Asus EeeBooks launched a few years ago.
The shorter keys do leave room for the spacious palm-rest mentioned before and an oversized trackpad, which I do appreciate. In everyday use though, the latter proved occasionally erratic and moody, although it worked alright most of the time. But sometimes ti double clicks all by itself or sends the cursor flying to the edges, and these mostly happen when you put the computer under a heavier loud than it can handle.
Even so, this is one of the few aspects where the X205 needs extra tweaking. Luckily, the jumpy cursor is usually a software problem and could, at least in theory, be addressed by future drivers updates. We should hold our judgement for further reviews, just keep the potential issues in mind.
Design and build quality
Now, let's take a few steps back and have a wider look at this thing. The EeeBook weighs just under 1 kilo, which is about 2.1 pounds. It's also thin and has a compact footprint, so it will easily fit in a backpack or even a bag. And besides these, it's fairly tough and definitely doesn't look bad either. If you'll grab it firmly and squeeze it, you'll heard the creaks associated with cheap plastic machines, but judging by how much this thing cost, I'd say it's more than adequately built and finished.
The entire case is made out of soft matte plastic that spreads across the lid, the interior and the belly, with the screen's bezel being the only black element on this laptop, and Asus will offer the X205 in a few different colors. The materials feel nice to the touch and there's little to complain about the finishing quality.
However, If we're to get picky, I do have two nits to mention: first of all, the case catches smudges and finger oil easily, which are especially visible on this dark blue version, and second, the lid-cover does flex a little bit, but that doesn't seem to affect the screen's integrity in any way, although pressing the lid hard does translate in ripples on the screen, so you might want to get a sleeve for this thing when carrying it in your backpack and be careful not to have many heavy objects sitting on it.
And there is one other thing that I've noticed: the laptop's rubber feet seem poorly made and I fear they are going to wear off easily. Time will tell, but again, a minor aspect.
Display
There's an 11.6 inch display on this laptop, with 1366 x 768 px resolution, a glossy finishing and a TN panel. The latter translates in rather poor vertical viewing angles, with the Costner and colors quickly fading away, which is characteristic for low priced screens, but even so, as long as you get to look at it heads-on, this aspect shouldn't bother you much.
The screen leans back to about 130-140 degrees, which is not perfect, but will do, and actually lifts itself up on two small plastic feet, which leaves more space underneath the laptop (better cooling) and slightly raises the keyboard (better typing position). I just hope these feet won't break in time, but they seem solid, so there's no reason to worry much.
In fact, I for one was fairly happy with the display. If you'll look at the numbers below you might say otherwise. The measured contrast is appalling, the screen having trouble displaying accurate blacks at high brightness. The colors might sound awful as well and the laptop does have a very cool (as in blueish) glow, which could be addressed with the included Splendid app if you enjoy warmer images. But the truth is, when you're actually using this thing in practice, it's not going to be that bad as the numbers are suggesting.
Panel HardwareID: AU Optronics AUO235C;
Coverage: sRGB 58% , NTSC 41%,  SdobeRGB 43%;
measured gamma: 2.3 ;
max brightness in the middle of the screen: 247 cd/m2 on power;
contrast at max brightness: 90:1 (?);
white point: 7900 K;
black on max brightness: 2.78 cd/m2;
average DeltaE: 8.48 uncalibrated, 4.37 calibrated .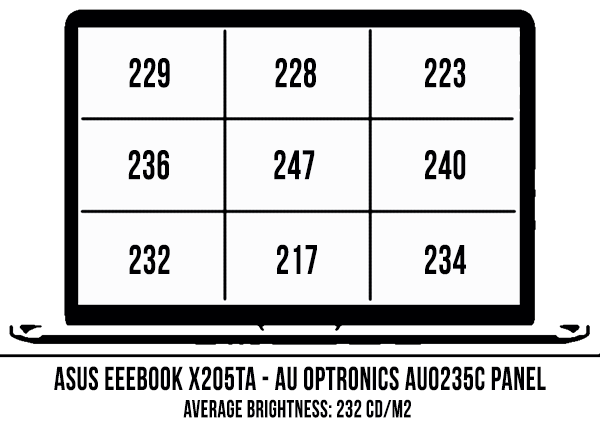 Asus could have gone with a matte finishing, since this is not a touchscreen anyway, but they decided instead, which is going to affect bright-light legibility. They're using the same approach on the C200 Chromebook, with whom the x205 might actually share the screen.
Battery Life
I did mention earlier that the EeeBook X205 does last for a long while on a charge, and that was no underestimation.
There's a 38 Wh battery inside this laptop and paired with the efficient hardware, this translated for me in about 10 hours of daily use, that includes browsing through a few different tabs, writing several thousand words, watching a few Youtube clips once in a while and occasionally listening to some music, with Wi-Fi ON, screen at about 60% and the default Power profile (you don't have Power Modes on this platform). I was also able to loop a 720p .mkv file for about 9 hours in WMP-HC and stream the Big Bunny HD 1080p clip from Youtube for nearly 8 hours.
On top of that, the laptop can last in stand-by for weeks and Intel's Always Connected ability will make sure that all your updates and emails are waiting for you the moment you decide to bring this one out of sleep.
It comes with a very compact 10Wh brick and a long cable. Charging the battery from 5 to 99% takes about 2 hours and 15 minutes, providing you're not doing anything on it during this time.
Pricing and availability
Update: The X205TA is now available in the US and it's actually cheaper than initially predicted. See this link for details.
$199 in the US/CA , 199 euro across the pond and £169.99 in the UK. That's how much you'll have to pay for the EeeBook X205TA , starting October 14th, when this little fellow will start shipping. That that was bogus. I can't say for sure when this thing will actually hit the stores. My Asus contact said (in the first part oc October) that "it's not coming anytime soon", but couldn't provide even a rough estimate.  However, it might reach other countries sooner.

Wrap-up
At the end of the day, Asus actually did a great job with the EeeBook X205TA, which checks most of the right boxes.
After using it for the last week, there's a single thing that really annoyed me, albeit only occasionally: the trackpad. I was also not happy with the microSD and microHDMI slots (would have preferred full-size versions) or the fingerprint magnet case, but these are definitely not deal-breakers. The limited storage space could be though, you'll really need to properly organize your content and leave the included partition for Windows, if you don't want to have to reinstall it fresh once every couple of months.
But that's about it, there's only that little to complain about on a 200 bucks laptop. That's why I believe this thing can be a solid travel companion, especially since it's light, sturdy and lasts for a long while on each charge. It will also do good as a laptop for kids and school, because it's so affordable that you won't mind as much if it gets dropped or it breaks. And last but not least, it could be an option for anyone looking for a small inexpensive computer that runs Windows and all the compatible software.
Just make sure you understand what the Atom platform inside this X205 can do and what it can't and adjust your expectations accordingly. Otherwise, it might prove too slow, but if you do plan on using it for light daily tasks, there's imh no other more capable mini-laptop you can buy brand-new for $200 these days. Not even a Chromebook. But I'm confident Asus won't be running free in this segment for long. HP already announced their Stream notebooks for the end of the year, and the other manufacturers will soon follow, which is great for us, the average consumers.
Cheap windows laptops are coming back. Netbooks are coming back, only better than before. Are they something many will be interested in? Perhaps, perhaps not… We'll see.
Anyway, there you have it, these were my impressions on the Asus EeeBook X205TA. Let me know what you think about it in the comments section below and post your questions as well, if any, I'll be around to reply. And if you're in the market for an affordable and compact laptop, you should definitely check out this post as well.
Disclaimer:
Our content is reader-supported. If you buy through the links on our site, we may earn an affiliate commission.
Learn more.