Hi everyone, Mike here and this is the Asus N551, one of Asus's recently launched 15 inch multimedia laptops.
The N551 carries on from last year's N550 series (see my detailed review over here) and on a first peek, not much has changed here. Once you get to analyze the new iteration more carefully though, you'll find a new screen, a redesigned internal layout and cooling system, a changed underbelly and a new speakers system, among others.
But is the N551 an evolution? Well, definitely yes, an evolution, but at the same time not a revolution. Stick with me till the end of this detailed review and you'll find out exactly why. Or you can have a look at the video, which offers a shorter summary of the whole story.
Later update: Time passes by and the N551 is no longer a relevant notebooks these days. However, we've continued to review the more recent Asus series of performance laptops, as well as a multitude of other compact gaming notebooks, so you'll surely find these articles helpful in your searches.
PS: We have the N551JK model here, with the Intel Core i7 processor, IPS display, 16 GB of RAM and Nvidia GTX 850M graphics. However, most of the aspects mentioned in this post also cover the other versions.
PS2: If you're interested in the "gaming" version of this laptop, check out my detailed review of the Asus G551JM as well.
Asus N551JK Video Review
The specs – Asus N551JK
Before we get in deep, let's have a look at the specs, so you'll know what we're dealing with here.
| | |
| --- | --- |
|   | Asus N551 series – Asus N551JK |
| Screen | 15.6 inch, 1920 x 1080 px resolution, IPS, matte, non-touch |
| Processor | Intel Haswell Core i7-4710HQ |
| Chipset | Intel HM86 |
| Video | integrated Intel 4600 HD and dedicated Nvidia 850M 2GB DDR3 graphics |
| Memory | 16 GB DDR3 |
| Hard-disk | 1 TB 5400 rpm HDD + 24 GB SSD |
| Connectivity | Wireless N, Gigabit Lan, Bluetooth 4.0 |
| Ports | 3 x USB 3.0, HDMI, mini DisplayPort, LAN, card-reader, webcam |
| Baterry | 56 Wh, removable |
| Operating system | Windows 8.1 |
| Size | 383 x 259 x 33 mm |
| Weight | about 2.6 kg (5.73 pounds) |
Just like with the previous generation, Asus will offer the N551 in a bunch of different configurations, so we're going to focus first on the aspects the remain the same on all the family members.
Design and build quality
We'll start with the design. Brushed aluminum is used for the lid-cover, with a backlit ASUS logo in the middle and a matte silver aluminum unibody for the interior and the sides, which feels nice and won't show fingerprints. A trained eye will notice that the hood borrowed the concentric circles pattern from the Asus Zenbooks, as opposed to the vertical pattern on last year's N. The backlit Logo is a nice touch and I did notice that's it's not very bright. Not sure if that was intended or not, but I like it.
The underbelly is covered in some rough plastic though, and that's actually a change from the N550, which featured an aluminum belly as well. The plastic also stretches over parts of the side edges, integrating the cooling grid on the left and the optical drive on the right.
This new approach allows for an easily removable battery and for a door that gives fairly simple access to the storage drive and memory, which is only hold in place by two Philips screws. Thus upgrading the laptop by yourself is now an easier tasks to perform, with one exception though, as you'll find a bit later.
While we're still looking at the bottom, you'll notice that the only air intake cuts are placed on top of the RAM module, towards the front part of the laptop, and that can mean trouble down the road. In fact, Asus changed the cooling system on the new N, borrowing from the approach used on their older N56 series, with the air being pushed out towards the left side, through that massive exhaust grill.
I do appreciate this solution over the behind the hinge exhausts on the N550, but that does have one drawback: all the important connectors placed on the left edge have been pushed towards the front, which can lead to a rather cluttered side, if you choose to use the Ethernet or the video-outputs over there. The laptop also offers a set of three USB ports, an optical drive on the right edge plus the jack for the external subwoofer, a card-reader on the front lip and some status LEDs just beneath the trackpad.
With these out of the way, let's have a few steps back and look at the greater picture here. The N551 is still a fairly massive and bulky laptop (in fact, it's thicker than the older N based on my measurements, and about 100 grams heavier as well), but at the same time solid built.
The lid cover does flex somewhat when pressed, but the interior hardly bulges at all. The palm-rest is spacious and the keyboard sits in the middle of the body, with plenty of room bellow and on top.
Speakers
The dimpled circular patterns spreading over the laptop's top left and right corners are still present, as an emblem of the N Series, and they hide the front-facing stereo speakers beneath, whose cuts occupy just a tiny portion of the whole design though.
There's still an external subwoofer included with this laptop, as with the other Ns before, which takes care of the basses and helps the laptop push punchy and fairly loud sound when having it connected, with not distortions and vibrations, even at high volumes (~85 dB with the subwoofer attached, ~ 80 dB without).
However, my unit came with a faulty subwoofer that was continuously emitting some sort of parasitic low intensity noise when connected to the laptop. Hopefully that's not going to be the case with the final retail versions.
Screen
As expected, Asus put a 15.6 inch display on the N551, with an IPS panel, 1920 x 1080 px resolution and a matte finishing, at least on this model, as others might be offered in slightly different configurations. It lacks touch, but the matte coating translates in low glare and thus, improved visibility in strong-light environments.
The panel is made by Samsung and is crisp, sharp and bright. It displays punchy colors, covers a wide gamut and shows absolutely no signs of light bleeding, not even on black backgrounds and maximum brightness. The numbers below also speak of the panel's high quality:
Panel HardwareID: Samsung SDC324C;
Coverage: 100% SRGB, 73% NTSC,  79% AdobeRGB;
measured gamma: 2.3;
max brightness in the middle of the screen: 311 cd/m2 on power;
contrast at max brightness: 650:1;
white point: 7800 K;
black on max brightness: 0.48 cd/m2;
average DeltaE: 4.78 uncalibrated, 2.08 calibrated .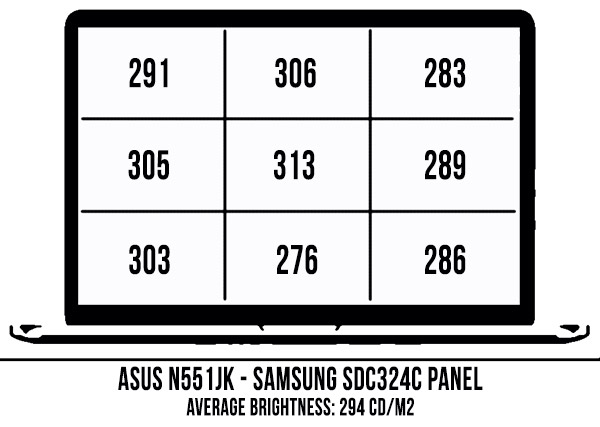 The hinges are one final exterior change on this new series when compared to the older one. There are two of them now, and not a single long one like on the N550, but they are still very firm and will keep the screen in place exactly how you put it and allow the display to lean back to about 130 degrees, which is enough on a 15 incher that's meant to live most of its days on a desk.
I will add two things here. Out of the box, the laptop comes with the Vivid Mode selected in the Asus Splendid app, which causes oversaturated colors. You'll want to switch that to Normal. And also out of the box, the Font-Size is set to 125% in Windows, which causes most third party desktop apps to look fuzzy. Switch to 100% and you'll get rid of this issue.
Keyboard and trackpad
Moving along, I have to say that I found the typing experience more than satisfying on this laptop.
The keys are stiff, travel deep enough inside the frame and offer excellent feedback. In fact, typing this review was a shear pleasure and required no time to get used to the stroke or the layout. With one exception: the END key. Much like they do with many of their other laptops, Asus put the Power button as the top-right key on this N551, where' you'd expect the End to be, and while it is firmer than the others, you might still press it by mistake and cause the laptop to go to sleep, with absolutely no warning.
Besides these, it's worth noting that the NumPad Area and especially the arrow keys are somewhat cramped on this layout, as they are are narrower than the others, which is something I resented on the N550 and Asus did not change on the new model either.
Last but not least, they are still using Silver keys on a silver background with a white back-lightning system, and that makes the writing on each key barely visible with the illumination system turned ON. It's not a major issue, but I just wish the guys in charge with the keyboards would just learn the benefits of contrast and go back to using black keys on these Ns (like they did several years ago). The Zenbook NX500 suffers from the same quirk.
Anyway, a fairly spacious glass-made trackpad sits just beneath the keyboard, with tapered edges that separate it from the palm-rest. It performed smoothly and accurately during the tests, properly responding to my swipes, taps and gestures. Physical clicks are somewhat clunky and stiff though.
Hardware and everyday use experience
OK, so far the N551 is looking great. But a multimedia laptop is not just about the aesthetics, the screen, the keyboard or the speakers: it's also about the performance.
We're testing the Asus N551JK model here, with an Intel Core i7-4710HQ processor, 16 GB of RAM (2 slots), hybrid storage (one 2.5 inch 1 TB Seagate ST1000 HDD and one mSATA 24 GB Sandisk U100 SSD) and Nvidia GTX 850M graphics.
However, there are a few things to keep in mind. First of all, this is the DDR3 version of the Nvidia chip, and not the DDR5 model (which is reserved for the G551, the more compact version of the G771 tested here).
Then, the 2.5 inch bay and the two memory slots are easily accessible on this laptop if you want to perform upgrades. There's no M.2 slot from what I can tell (like on the G551), but there is a half-sized mSATA connector used for the caching SSD present on our configuration. However, in order to get to it, you'll have to take apart the entire plastic belly, which is not an easy task.
And third, our laptop only includes a hybrid storage solution, thus booting (~25 sec) and loading times are not as fast as you'd get with an SSD, plus the spinning drive is a noise source you'll actually hear when the computer is idle or used for light activities.
Those aside, this N551 coped well with everything I threw at it: everyday tasks, Photoshop, Premiere, all sorts of multimedia content and even games. I've tested a few titles like Bioshock Infinite, Tomb Raider, Metro: Last Light and others and all of them are running smoothly on the default 1080p resolution, even with details set to very high or ultimate. The results are below, as well as some benchmark scores.
3DMark 11: P4815;
3DMark 13: Ice Storm – 102465, Cloud Gate –1482, Sky Driver – 9925, Fire Strike – 2773;
PCMark 08: Home Conventional – 2996;
CineBench 11.5: OpenGL 58.13 fps, CPU 6.82 pts;
CineBench R15: OpenGL 86.29 fps, CPU 633 cb.
All these were performed with Nvidia's 333.11 driver installed.
It's also possible to run games on battery, but most titles won't run as well as when the laptop is plugged in, except for Tomb Raider. You should also make sure to disable the 30 fps limitation which is checked by default in the Nvidia GeForce Experience app and don't expect more than about one hour of gaming on a charge from this machine.
| | | | |
| --- | --- | --- | --- |
| | 19 x 10 Medium | 19 x 10 Medium on battery | 19 x 10 Ultra / Very High |
| Dirt 3 | 74 fps | – | 36 fps |
| Grid 2 | 95 fps | – | 42 fps |
| Tomb Raider | 71 fps | 71 fps | 20 fps |
| NFS Most Wanted | 44 fps | – | 29 fps |
| Bioshock Infinite | 58 fps | 28 fps | 43 fps |
| Metro Last Light | 44 fps | 24 fps | 26 fps |
Temperatures, Noise, Wi-Fi and others
I'm happy to report that throttling while performing daily tasks, including gaming, is not an issue with this laptop.
Nor the CPU or the GPU drop below their nominal frequencies. However, unlike with the Zenbook NX500 or the G771, the N551 gets more permissive software, which allows the internals to reach higher temperatures under load. You can find the details in the pictures below, but long story short, after running the Prime95+Furmark stress test for about 30 minutes, the CPUs cores get over 90 C, and they reach similar numbers while running demanding games on Ultra as well, but they once again don't drop below their default frequencies.
Luckily, that does not translate in high case temperatures, as you can see from the numbers below, despite the limited air-intake (there are only a few cuts on the belly, placed on top of the RAM).
In daily use, the N551 remains fairly quiet, although there's a constant roar coming from the exhaust grill and occasionally some cranking from the HDD, which you'll hear in a completely quiet room. At the same time, the case gets merely, merely warm.
Under load, the fan spins much faster and the laptop gets noisier (about 48-49 dB at head height, with a few phone apps, so take this with a grain of salt), while the middle of the laptop hits higher temperatures, enough to cause unpleasant sweaty hands, but not more discomfort than that.
In summary, the N551 receives good grades when it comes to performance, noise and temperatures as well. There is one aspect where it fails to pass though: Wi-Fi.
Asus used a Mediatek wireless board on this unit, which does not support AC speeds, but that's not the problem here. What's annoying is how fast the Wi-FI speed drops when you get even a bit farther away from the router. For instance, in this picture I'm only 20 feet away with two walls in between and the speed is half of what I get with my desktop.
Getting past 30 feet drops the speeds to under 10 Mbps. So as long a you have the router nearby, that shouldn't worry you, but if you need long-distance reception, the N551 with this Mediatek Wi-Fi chip is going to disappoint.
Battery Life
Before we wrap this up we should also talk about the battery. There's a 56 Wh one on this laptop and, more importantly, it's removable. I know that's important to you and it should be easier, at least in theory, to find and use replacements when the time comes.
56Wh is only an average-sized capacity on such a powerful configuration though, so expect about 4 hours of daily use from the N551JK, on Balanced Mode with the screen's brightness at about 50% and the keyboard's back-lightning  deactivated. Gaming will deplete the battery in a little over one hour, while looping the 1080p .mkv file is possible for 4 hours and 30 minutes, on Power Saving, with the screen dimmed to 50% and Wi-Fi OFF.
These aren't impressive numbers, but the N551 is not a portable laptop either, so I wasn't expecting a lot more. A bigger battery would have been nice, but that would have probably meant turning to an encased one, and Asus chose this path instead.
Pricing and availability
Asus will offer the N551JK in a few different versions. From what I've been told so far, here's what you should expect:
Intel Core i5-4200H, Nvidia GTX 850M DDR3, 8 GB RAM, 1 TB 7200 rpm HDD – ~ $900 – $950 (950E);
Intel Core i7-4710HQ, Nvidia GTX 850M DDR3, 8 GB RAM, 1 TB 7200 rpm HDD + 24 GB SSD – ~ $1050 – $1100 (1050E);
Intel Core i7-4710HQ, Nvidia GTX 850M DDR3, 16 GB RAM, 256 GB SSD – ~ $1250 – $1300 (1250E).
Those are estimates based on the how much these configurations are going to cost over here.
Wrap up
OK, time to draw the line here. There are a few things that I like on the N551 when compared to last year's N550: the matte screen, the new cooling solution that pushes hot air towards the left side of the chassis, away from us and the screen, the fact that they brought the speakers back on top of the keyboard, the fact that they made RAM and the storage-drive easy to access and upgrade and perhaps the removable battery. These are actually characteristics of the older N56 series, which is funny, but I do appreciate that Asus had the strength to bring everything back to the drawing board and admit their mistakes with the N550.
The notebook's design, sturdy body, comfortable keyboard and accurate trackpad are also aspects to appreciate.
Not much has changed hardware wise though (the N550JK offers a similar configuration) and I sure wish Asus will improve their keyboard layout. Thus, if you've already bought a N550, upgrading to the N551 is definitely not worth the investment.
If you are however looking for a good multimedia 15 inch laptop right now, the Asus N551 should imh be towards the top of your list. The pricing is going to make or break it, but knowing Asus's policy in the past, I believe this will be competitive. The Wi-Fi performance though can be a major deal-breaker from some of you, so hopefully Asus will actually get it fixed on the final release versions.
On top of that, I expect the N551 to get updated to Nvidia 9xx series graphics in the next months and those could offer a bump in performance. In other words, if you're in a hurry, the N551 won't disappoint, but you should also consider similarly priced options like the Asus G551, the Lenovo Y50 or the Acer Aspire V Nitro. If you can wait a few months though, you should: Broadwell processors and those Nvidia chips are the main reasons for that.
Anyway, that's about it for now. These were my impressions on the Asus N551JK. Let me know what you think about it in the comments section below and if you have any questions, I'm around to reply. Thanks for sticking by and stay tuned for my future reviews.
Disclaimer:
Our content is reader-supported. If you buy through the links on our site, we may earn an affiliate commission.
Learn more.