The Asus Transformer Books go a long time back, to the beginnings of the 2-in-1s, as some of the first Windows detachables ever launched.
The Transformer Book Chi is the manufacturer's latest series at the time of this post, launched in 2015, and consists of three different devices, the T90 with an 8.9 inch screen, the T100 with a 10.1 inch screen and the T300 with a 12.5 inch display, which we already reviewed a few weeks ago.
This article is about the middle option, a detailed review of the Asus Transformer Book Chi T100. In very few words, the Chi T100 is a complete redesign of the popular Transformer Book T100 series, with a brand new case, a higher resolution display with Active Pen support and a few other changes here or there, all built on top of the same hardware barebone used in the past.
We'll get to talk about all these in the next rows, so stick with me if you want to know whether the Chi T100 is worth your hard earned buck or not.
The Video Review


Asus Transformer Book Chi T100

Screen
10.1 inch, 1920 x 1200 px, IPS, touchscreen
Hardware
Intel Atom BayTrail-T Z3775F CPU 1.46 GHz CPU and Intel HD graphics
Memory
2 GB RAM
Storage
64 GB eMMC
Connectivity

Wireless N, Bluetooth
Ports
micro-HDMI, micro-USB, microSD card reader, headphone jack
Cameras
2 Mp front, 5 MP back
Battery
30 Wh
OS
Windows 8.1 32-bit

Size
Tablet: 264 x 172 x 7.1 mm (10.4" x 6.8" x 0.28")
Tablet + Dock: 264 x 172 x 15.2 mm (10.4" x 6.8" x 0.6")
Weight
Tablet: 568 g (1.25 lbs)
Tablet + Dock: 1100 g (2.43 lbs)
Others
Bluetooth docking station included, with keyboard and trackpad
Design, exterior and first look
There's no argue this thing is stunningly beautiful, with its Dark Blue metallic case and shinny beveled edges, which will scratch and dent easily though. In fact, you can see some marks on this test unit already, despite the fact that it's only a few weeks old, so treat it nicely.
The Chi T100 is also compact and highly portable, as the slate alone measures just 0.3 of an inch in its thickest point (that's close to a regular magazine) and weighs 1.25 pounds, while the slate and the dock combined tip the scale at around 2.4 lbs, numbers other detachables in its class can't match.
I'm confident Asus could have made this even lighter if they went with a plastic case, but they opted for the premium metallic build instead, and that wasn't a bad call at all. At 1.25 lbs the Transformer Book isn't a match for other popular 10-inchish slates like the iPad Air or the Samsung Galaxy Tab S, but is still light enough to be hold comfortably for a longer time, without causing fatigue.
The very slim form-factor does mean you'll have to live with miniaturized ports: two microUSBs on the slate (one microUSB 2.0 on the lower left, also used for charging, and another microUSB 3.0 on the right), microHDMI and a microSD card-reader, but that's a sacrifice I'm willing to make. On the other hand, the T100 doesn't get the microUSB to USB adapter (OTH cable) in the pack, unlike the larger T300, which means you'll have to buy it yourself.
Dock, keyboard and trackpad
A dock is included in the pack alongside the tablet, to which it latches magnetically. The hinge is more compact than on the previous Transformer Books, but still strongly built. Unfortunately though you can only lean it back to about 120 degrees, which means you'll struggle to watch the screen heads-on in many situations. Asus went with this approach because the device is top heavy (the actual slate in heavier then the dock) and a larger angle would have caused the ensemble to fall on its back, like on the Acer Aspire Switch 10 E tested a few days ago. Still, I'd rather have that happen than live with this limiting hinge.
The two halves are not physically connected though, like with the older Transformer Books, because the dock is merely a support for a Bluetooth Keyboard and Trackpad, with a small battery inside used to power them. It does not house any storage, and the existing microUSB slot is only used to charge it up. Cause yes, you'll have to charge it independently. Asus went for this approach on their entire Chi line and I'm definitely not a fan.
The tablet charges via microUSB as well and you can use the included charger to fill-up the dock, or you can use a microUSB to microUSB cable to connect the dock to the slate and charge it this way (the cable is not included though, again, unlike with the T300 Chi). Luckily the keyboard won't run out of juice easily, so I'd reckon you'll only have to charge it once a week or so, and Asus does include an App that lets you know when it's getting short on juice. Plus, since the battery inside the dock isn't very big, it charges up quickly.
OK, so we have a Bluetooth Keyboard and Trackpad here, but are they any good?
Well, not really. The keyboard on the Chi T100 is more cramped than on the older 10 inch Transformer Books, mainly because the entire device is more compact now. That leads to short rectangular keys with little space in between. They do feel nice to touch, with a slightly rubbery costing on top, and behave pretty well, as they are firm and travel a fair amount into the frame, but are so small that you'll struggle to hit the right one, especially if you have larger hands, which greatly hinders the typing speed and overall typing experience.
The trackpad sitting below the keyboard isn't very good either. It's small, but does feel nice and smooth at the beginning. However, after using it for the last week I can conclude that it's sometimes imprecise, does miss taps from time to time (especially gentle ones, which means you'll have to tap harder to make them register) and offers poor palm-rejection (and your hands will end on top of it quite often, given the device's small size). On top of these, since it's an Asus TouchPad, you can't tweak it in any way from the settings, other from disabling and enabling some gestures.
Screen
On paper the screen Asus put on the Chi T100 is spectacular: an 1920 x 1200 px IPS panel with a digitizer and support for active pens.
The aspect ratio makes it better than most other 10 inch Windows slates for portrait use, which I for one prefer when browsing, reading or spending time on Twitter and Facebook.
In practice, you'll love the resolution, the brightness, the viewing angles and the contrast. But if you require accurate color reproduction, you'll have to look elsewhere, cause the panel is messed up in this particular area and a calibration run could only fix very little, at least on my test model, which is a final-production unit identical to the ones you can find in stores. Check out the numbers below:
Panel HardwareID: AUOptronics AU017D8;
Coverage: 76% sRGB, 56% NTSC, 59% AdobeRGB;
measured gamma: 1.3;
max brightness in the middle of the screen: 370 cd/m2 on power;
contrast at max brightness: 660:1;
white point: 6600 K;
black on max brightness: 0.56 cd/m2;
average DeltaE: 9.52 uncalibrated, 6.56 calibrated .
I haven't been able to test the digitizer/Pen support though, as a Pen is not included in the pack and I don't have any Active styluses around. That's a pity as it is one of the Chi's main selling points, so if any of you can share something on this topic, feel free to do it in the comments section and I'll update this section.
Hardware and daily use experience
The Transformer Book Chi T300 this is powered by Intel Atom BayTrail T hardware, with an Atom Z3775 CPU, only 2 GB of RAM and 32 or 64 GB of eMMC storage, and that will probably disappoint some of you. The CPU is decently fast for what it is, but it does support 4 GB of RAM and it's unfortunate Asus do not offer such a configuration. It would have probably been expensive, because it would have had to be paired with a 64-bit version of Windows 8.1, and not the 32-bit version available now on these models. But the options would have been surely appreciated by some potential buyers.
The hardware is not upgradeable in any way and the included eMMC proved to be surprisingly slow on my unit. My model came with the 64 GB eMMC, but I've seen reports of the 32 GB model being slow as well. Still, there's a discrepancy between the results I got on CristalDiskMark (93 MB/s read , 38 MB/s write) and Atto Disk Benchmark (175 MB/s read, 50 MB/s write) that I cannot explain. In everyday use the storage feels a bit slow, but once you install all the programs you need, that shouldn't really be a problem.
The BayTrail T platform is efficient and capable of dealing with the daily routine, from browsing to watching all sorts of multimedia content and editing Office documents. Performance is boosted by the clean Windows install, with only a few preinstalled programs included. The sharp and bright screen does help with the multimedia experience, but the two speakers placed on the edges sound rather tiny and quiet, thus will not satisfy the audiophiles among you.
BTW, a 1 year Office 365 Personal subscription is included with this device, which also includes 1 TB of OneDrive storage for one year. That's not something special though, as most 10-inch Windows slates bundle a similar package and you'll have to pay $69.99 per year to renew the subscription after the first year.
However, with Intel's more recent Cherry Trail platform popping out here and there, some of you might consider the hardware on this device dated. And that's going to be a problem for Asus down the line, when this device will have to face more affordable CherryTrail slates, and not just the Microsoft Surface 3 available today.
Anyway, here are some benchmarks results and below you'll find some details on performance and inner temperatures while going through several different casual tasks (browsing, watching 1080p Youtube clips, typing, looping a 1080p .mkv file, etc).
3DMark 13:  Ice Storm – 17684, Cloud Gate – 1406, Sky Diver – 524, Fire Strike – NA;
CineBench 11.5 32bit: OpenGL 6.82 fps, CPU 1.49 pts, CPU Single Core 0.36 pts;
x264 Benchmark 4.0: Pass 1 – 47.15 fps, Pass 2 – 9.49 fps;
Octane 2.0 on Chrome: 7908 points.
You'll notice the hardware keeps withing average temperatures even when dealing with more demanding chores and that's visible on the outside as well, where the case merely gets warm, despite being entirely made of aluminum, which tends to drive heat easily.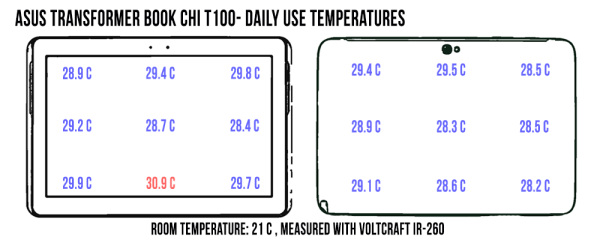 *Daily Use – 1080p Youtube clip in IE for 30 minutes
If you'll run demanding software or 3D games the metallic shell will reach temperatures between 35-40 degrees Celsius, which could make it a uncomfortable to hold and could cause sweaty hands.
I should also mention that the Broadcom Wi-Fi module Asus put on this device isn't very fast and could only provide rather slow download speeds of up to 50 Mbps even when next to the router. That's going to be enough for browsing, streaming content, occasional downloads or other daily activities that would involve an Internet connection, but other 10 inch Windows slates do offer faster wireless. On the other hand, the speeds and signal remained consistent when getting further away from the router with walls in between, which was a bit surprising, given the Chi's metallic casing.
Last but not least, Asus put two cameras on this device, a 2 MPx front-shooter and a 5 MPx main camera on the back. The latter does take decent pictures in good light, while the webcam is grainy and very dark, but should be enough for some occasional Skype calls.
Battery Life
Asus managed to squeeze a 30 Wh battery on this thin tablet and they corroborated it with a very efficient hardware implementation, which means the Chi T100 won't disappoint when it comes to battery life. I've set the screen to 30% brightness, which is about 120 nits, and here's what I got:
2 Wh (~15 h of use) – idle, screen at 0%, Wi-Fi OFF;
3.1 Wh (~9 h 30 min of use) – very light browsing and text editing in Google Drive, screen at 30%, Wi-Fi ON;
3.2 Wh (~9 h 30 min of use) – 1080p fullscreen video on Youtube in Internet Explorer, screen at 30%, Wi-Fi ON;
4 Wh (~7 h 30 min of use) – 1080p fullscreen .mkv video in VLC Player, screen at 30%, Wi-Fi ON;
4.5 Wh (~6 h 40 min of use) – heavy browsing in Internet Explorer, screen at 30%, Wi-Fi ON;
4 Wh (~7 h 30 min of use) – 1080p fullscreen video on Youtube in Chrome, screen at 30%, Wi-Fi ON.
The slate charges via microUSB and that takes a while (around 3 hours), plus Asus only includes a short 3-feet cable with the power-adapter, which could make the process of using the device while charging it rather annoying.
Buyers complained about this on the older 10-inch Transformer Books, but Asus chose to do nothing about it. Buying a longer USB to microUSB cable could be a solution, but not-using an original Asus USB cable lead to much longer charging times in the past, which is probably going to be the case here as well.
Pricing and competition
You can get the Transformer Book Chi T100 for either $399 or $449, but will surely get cheaper down the line. Follow this link for up-to-date prices and configurations at the time you're reading this post.
Both models include the slate and the dock, the Atom processor and 2 GB of RAM, but the cheaper version comes with 32 GB of storage space, while the $449 model gets a 64 GB eMMC. I'd stay away from the 32 GB model because it only leaves about 20 GB of space with a fresh Windows install and you'll very quickly run out of space just by performing some updates and installing basic programs (antivirus, office, etc).
Microsoft Store also sells a Signature Edition model for $549, which given how there's little bloatware on the standard Asus version anyway, is definitely not worth $100 extra.
So the only viable option remains the $449 one. If you want a sleek and beautiful Windows-running 10 inch slate with a digitizer and pen support that you're only going to use for light daily activities, you're hardly find anything better for the same amount of money or less.
Last year's Asus Transformer Book T100TAM (my detailed review is available here) however can be bought for under $250 right now (follow this link for up-to-date prices) and offers the exact same hardware specs, but only a 1366 x 768 px display without digitizer. It's marginally larger and heavier, but does include an USB 3.0 slot on the dock and space for a 2.5-inch SSD/HDD inside. So it is a more practical and much cheaper option, unless you really want the digitizer and high-res display.
There are a few other options that include faster hardware and especially more RAM, but they tend to be more expensive. Still, check out the Lenovo ThinkPad Tablet 10, the Microsoft Surface 3 or the Dell Venue Pro 11, among others, as well as my detailed post on the best 10 inch Windows tablet and mini laptops available right now.
Wrap-up
At the end of the day, I feel that Asus decided to create a 10 inch Windows 2-in-1 that looks and feels better than anything else in its price range and they actually succeeded with the Chi T100. Unfortunately that meant some of the practical aspects had to be sacrificed, and that includes the keyboard, the IO and even the hardware, to some extent.
Which brings us to the important question here: is the Transformer Book Chi T100 worth your hard earned buck? Well, if the size, aesthetics and pen-support are high on your priorities list, this device could be what you need. But if you'd rather get a more capable 2-in-1 with ports, more storage space and a nicer keyboard, there are better options for you out there. Or far cheaper ones. Again, my list of the best 10 inch Windows tablet and mini laptops is the perfect place to start your search.
Anyway, that wraps it up for now. Let me know what you think about the Transformer Book Chi T100 in the comments section below and feel free to get in touch if you have any questions or anything to add to this review.
Disclaimer:
Our content is reader-supported. If you buy through the links on our site, we may earn an affiliate commission.
Learn more.