Asus will update the popular Transformer Book series with a new model this fall, the T100HA. It's scheduled for release at the beginning of October, with the base models starting at around 300E here in Europe ($299 in the US), and includes, among others, an updated Intel CherryTrail hardware platform, an USB Type-C port and a slightly redesigned outercase and dock.
I've spent a few weeks with a pre-release version of the T100HA, identical in pretty much every way to those models you'll be able to buy in stores in a few weeks, and I've gathered my impressions and thoughts in the following paragraphs.
In very few words, the Transformer Book T100HA is a light and compact 10-inch Windows 10 tablet with a good screen, which is fast enough for your daily activities as long as you keep multitasking to a bare minimum and is able to last for between 8 to 10 hours of daily use on a single charge. A keyboard dock is included in the pack.
If these have sparked your interest and if you're interested in more details about this Transformer Book T100HA, then the long story awaits you in the rows below.


Asus Transformer Book T100HAN

Screen
10.1 inch, 1280 x 800 px, IPS, touchscreen
Hardware
Intel Atom CherryTrail  X5-Z8500 CPU 1.44 GHz CPU and Intel HD graphics
Memory
2 GB RAM
Storage
64 GB eMMC
Connectivity

Wireless N, Bluetooth
Ports
micro-HDMI, micro-USB, USB 3.1 Type-C gen1, microSD card reader, headphone jack
Cameras
2 MP front, 5 MP back
Battery
30 Wh
OS
Windows 10 64-bit

Size
Tablet: 265 x 175 x 8.5 mm (10.4" x 6.9" x 0.33")
Tablet + Dock: 265 x 175 x 18.5 mm (10.4" x 6.9" x 0.72")
Weight
Tablet: 580 g (1.27 lbs)
Tablet + Dock: 1140 g (2.51 lbs)
Others
docking station included, with keyboard, trackpad and USB 2.0 slot, available in 4 different colors
Design, exterior and first look
There are quite a few ultra-slim tablets out there these days, like the iPads, the Android slates or the magnesium built Microsoft Surface 3. But most of them sell for 400-500 bucks or more. Asus have a sleek Transformer Book as well, the T100 Chi we reviewed a while ago.
The T100HA on the other hand is more affordable, but that's not something you could tell based on the first impression, as this device feels like a more premium model. The tablet is slim, fairly light (1.27 lbs) and its outer case is mostly metallic, with an aluminum shell stretching around the back and the sides, while a shinny plastic rim acts as a liaison between the metal and the glass on the front face.
The slate feels nice in hand and the rounded edges make it quite comfortable to hold and use. The build quality is pretty good as well, although the case does squeak when grabbed firmly, which suggests that the metallic shell is slim and not very sturdy.
Overall though, the T100HA is a evolution when compared to the T100TA and T100TAM launched in the previous years. It's smaller and lighter, it feels stronger and it's going to be available in a bunch of different colors: White, Gray, Blue and Red. I've spent time with the Blue model and I think it's a head turner, especially among kids. The color scheme is matched on the dock and some models are paired with a white, others with a black keyboard.
On the other hand, when it comes to the IO, not much has changed, except for the addition of an USB TypeC port. That's a first generation USB 3.1 slot though, so it won't work with Thunderbolt peripherals, but will allow faster connection speeds (up to 5 Gbps) than the microUSB slot. It's worth noting that the USB 3.1 slot is placed on the left side, while all the others are on the right.
I was expecting to see the tablet bundled with an USB 3.1 charger, but this particular unit came with a standard microUSB cable in the box. That means that charging times are still a concern, on one hand, while on the other it means that using the tablet while charging is going to be difficult, since the included cable is very short (3 feet, less than 1 m long) and has to stretch all the way to the slate's right edge. These issues could be addressed if the final retail versions will ship with an USB TypeC cable, but I'm pretty sure that's not going to be the case here.
Dock, keyboard and trackpad
While the T100HA feels nice for a device that sells for under $300, the dock doesn't exactly match it in terms of quality, as it's made from a matte plastic and it feels somewhat hollow, cheap.
I for one found it a bit weird that the dock is millimetrically shorter than the tablet, so the two don't fit perfectly on top of each other. The fact that the tablet is a bit longer makes lifting the screen much easier than on other tablets, so perhaps that's the reason why the two parts aren't perfectly symmetrical.
The dock latches to the tablet magnetically and the whole process of binding and unbiding the two is smooth and fast. You can easily attach the slate to the dock with a single hand, but you'll need both hands to detach them, since the magnets are fairly strong.
The hinge is solid and made from plastic as well. As a small detail, the dock rises on this hinge when the device is used as a mini laptop, thus the manufacturer designed two tiny feet on the hinge, which are also made from hard plastic. As a result, the T100HA will slide quite easily on a desk, as these feet on the hinge lack proper grip. Older Transformer Books had softer rubber feet on the hinge, from what I can remember, thus were more stable on a flat surface.
Now, we've seen a similar hinge on the T100 Chi, however with this tablet there's an actual connector that physically ties the tablet and the dock together. That means we don't have a Bluetooth Keyboard dock on the T100HA, so it will only work when the slate is attached, but also means you'll find a full-size USB slot on this dock (USB 2.0 only). Some of the older Transformer Books offered room for a HDD inside the dock, but that's not the case here. In fact, the dock is so slim that a 2.5″ drive won't be able to physically fit inside.
There's one more thing I have to add before moving on. The T100TAM and the T100 Chi were both top heavy when the tablet was connected to the dock and leaned back as much as possible. This newer T100HA no longer falls on its back, but at the same time the opening angle is limited to only about 130 degrees, so you will struggle to watch the screen head-on in certain conditions.
These aside, let's turn out attention on the keyboard and trackpad.
You probably noticed by now that Asus went with a white keyboard on this color scheme and it looks beautiful. It allows the keys to be visible in dimmer conditions, which is extremely important, since they are not backlit.
Aesthetics aside though, the keyboard is pretty much identical to those on the previous 10-inch Transformer Books. We're talking about small rectangular keys with little space between them, but a full layout with all the important keys. The feedback is decent and the stroke fairly deep for such a thin device, but even so, I struggled to type accurately on this configuration, since the entire keyboard is so cramped. If you have smaller hands and you're willing to spend the time to get used to the layout, you'll probably pull it off though.
As a side note, the keys are rather loud, thus typing in a quiet room can get a bit annoying for those around you, plus there's a fair amount of flex and bounce in the keyboard's frame, mostly because the dock is thin and made out of plastic.
The trackpad is fairly spacious for a 10-incher and feels nice to the touch, despite being made out of plastic. It handles taps and gestures well most of the time, but if you need to press for clicks you'll find the surface stiff and noisy.
Screen
Asus went with a 10.1 inch IPS touchscreen on this device and it's a good one. The HD resolution (1280 x 800 px) might not be high enough for this day and age, and you'll notice the pixels when readings texts or browsing, but it's a detail I can live with on such an affordable device, especially since the screen's other characteristics are above average.
Those include the brightness, contrast, viewing angles and color reproduction, although you'll need to use some sort of calibrating tool to correct the blueish tint that the panel gets out of the box.
Check out the rows below for extra details:
Panel HardwareID: AUOptronics AUO20D4;
Coverage: 83% sRGB, 62% NTSC, 64% AdobeRGB;
measured gamma: 2.1;
max brightness in the middle of the screen: 460 cd/m2 on power;
contrast at max brightness: 790:1;
white point: 8100 K;
black on max brightness: 0.59 cd/m2;
average DeltaE: 1.87 uncalibrated, 0.79 calibrated .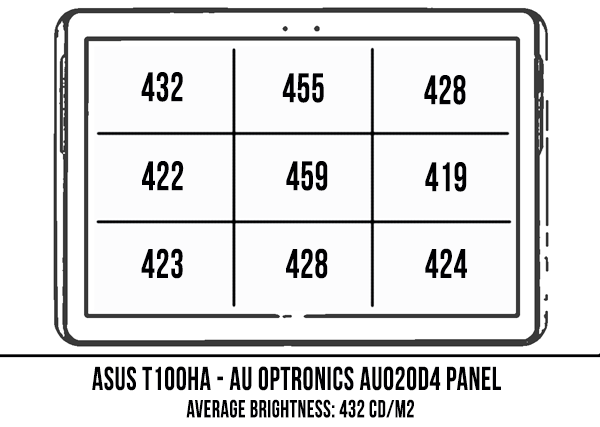 Now, I should add that the brightness readings seem a bit odd to me, as the panel does not appear to be as bright as my Spyder4 sensor claims. This could be due to the fact that the T100HA is running Windows 10 and the Spyder utility might have some issues with the new OS. So for now, take that reading with a grain of salt.
That aside, is worth adding that there's no active digitizer on this display, thus the T100HA is not going to be an ideal slate for inking and taking notes.
Overall though, you'll have little to complain about this display. Yes, premium tablets offer overall better high-resolution panels, but if you're on a budget you'll just have to settle for an HD only option, which should not be very hard in this case.
Hardware and daily use experience
The Transformer Book T100HA is built on Intel's latest to-date hardware platform for low-power devices. In other words, it bundles an Atom CherryTrail X5-Z8500 processor, paired with 2 GB of RAM and 64 GB of eMMC storage on this tested model. Other configurations include 4 GB of RAM and a choice of either 32 or 128 GB of storage space. Software wise, the tablet comes with Windows 10 Home (64bit), but Windows 10 Pro might be bundled on some configurations as well.
The version I got to spend time with came with little to no bloatware, but I expect at least a few programs bundled with the final releases. Among those, an 1-year license for Microsoft's Office 365 should be included, something you can find on all the other 10-inch slates available in stores these days.
Now, Windows 10 performs pretty smoothly on this low-power configuration. Everyday performance is alright, as long as you know what to expect from such a device and don't mind occasional sluggishness. I advise you to keep multitasking to a bare minimum and not use Chrome, which is known to be a memory hog. I've used Firefox instead, which performed well, but once you have more than 8-10 tabs open the device will start to struggle.
On the other hand, I had no problems editing documents on the T100HA or watching all sorts of video content, including 4K clips on Youtube (on Edge, as on chrome the same clips were choppy) and 1080p/4K MKV and HEVC clips stored on the device itself. I used the default Movies and TV app and these movies barely put the processor to work, while with VLC Player the same files did not play smoothly.
The good screen and the fairly loud speakers help with the multimedia experience, just don't expect much in terms of sound quality. The speakers peak up at 80 dB (at ear-level) while playing Pharell's Happy song of Youtube, and as a side note, they cause the slate's metallic back to vibrate, even at lower volumes, which can be annoying when holding the tablet and playing music or videos.
Now, my model came with only 2 GB of RAM and that takes a major toll on performance, especially since 0.8 GB are already occupied by Windows by default and some of it is used by the graphics, which leaves around 1 GB available for everyday use. The other issue is the rather slow storage eMMC storage solution, so don't expect to launch programs instantaneously on this machine.
I should also add that this particular unit did not perform as well as I was expecting in benchmarks. Immature drivers are usually to blame with these pre-production samples, but that means the final retail versions should be snappier. I did run a few tests and the results are listed below.
3Dmark 11: P405;
3DMark 13:  Ice Storm – 18977, Cloud Gate – 1825, Sky Diver – 951, Fire Strike – 223;
CineBench 11.5: OpenGL 9.29 fps, CPU 1.20 pts, CPU Single Core 0.39 pts;
CineBench R15: OpenGL 11.79 fps, CPU 110 cb, CPU Single Core 35 cb;
x264 Benchmark 4.0: Pass 1 – 40.67 fps, Pass 2 – 7.86 fps;
Octane 2.0 on Chrome: 7805 points.
As you can tell, the numbers aren't very good. But like I said, take them with a pinch of salt, the final units will be faster. In fact, this T100HA performed poorer than the Atom Z3795 powered Asus T100 Chi tested a while ago and is quite far from the Surface 3, which is one of the few other tablets powered by Intel Atom CherryTrail hardware available right now.
Still, while the Transformer Book T100HA does not excel when it comes to performance, it does run cool most of the time and does last for many hours on each charge. The slate's case barely reaches 30-33 Centigrades with everyday use, although it will get a bit hotter if you'll play games (from the store) or perform other demanding activities. The inner components on the other hands reach temperatures of over 80 degrees often, but that's no something you should be concerned about.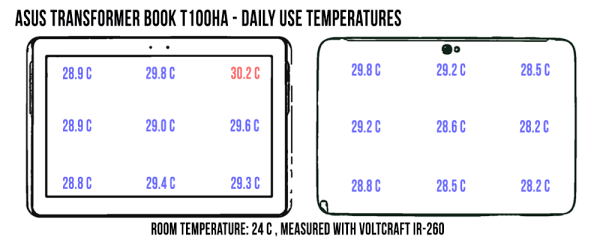 *Daily Use – 1080p Youtube clip in EDGE for 30 minutes
I should also add that the Wireless chip inside the Transformer Book isn't very fast. Asus went for a Wi-Fi N only Broadcom chip, capable of reaching maximum speed of 72 mbps. In reality you should only expect around 50 Mbps right near the router and about 25-30 Mbps at 30 feet with two walls in between. That's enough for daily browsing and enough to stream content from Youtube, Netflix or other sources, even in 4K. On the other hand, if you'll need to copy content of and on the tablet, you'll need to be patient, as both the Wi-Fi and the eMMC storage are slow.
Last on the list there are the cameras, inherited from the previous Transformer Books: 5 Mpx on the back, 1.2 MPx on the front. I haven't used the back shooter much, but I did try to use the front-camera for a quick Skype call in the evening and it proved to be pixelated and grainy. It will perform better in brighter conditions, but don't expect much. The sound came out clean though and the two microphones are placed on the tablet's top edge.
Battery Life
There's a 30 Wh battery inside the T100HA and that's enough to push the tablet for 6-10 hours of everyday use, as you can see from the few situations mentioned below (I'm using HW Monitor to record the average discharge for 30 minutes in each case, while the screen is set at around 120 nits – 40% brightness in this case).
1.6 Wh (~19 h of use) – idle, screen at 0%, Wi-Fi OFF;
4 Wh (~7 h 30 min of use) – very light browsing and text editing in Google Drive, screen at 30%, Wi-Fi ON;
3.2 Wh (~9 h 30 min of use) – 1080p fullscreen video on Youtube in EDGE, screen at 30%, Wi-Fi ON;
4.8 Wh (~6 h  min of use) – 1080p fullscreen .mkv video in Videos and TV, screen at 30%, Wi-Fi ON;
5.5 Wh (~5 h 30 min of use) – heavy browsing in EDGE, screen at 30%, Wi-Fi ON;
5.9 Wh (~5 h min of use) – 1080p fullscreen video on Youtube in Chrome, screen at 30%, Wi-Fi ON.
It's worth noting that the T100HA did not last as long as the T100 Chi in out battery tests. Once again keep in mind this is a pre-production version and the final release models might behave a bit differently both in terms of performance and in terms of efficiency. However, comparing these result to those of the Surface 3, which is powered by very similar hardware, we can conclude the CherryTrail platform is not as efficient as the previous BayTrail-T hardware.
The device came with a microUSB charger, as I mentioned above, and that means it will take more than 3 hours for a 10 to 100% recharge. The included microUSB to USB 2.0 cable is short (3-feet) and that means charging and using the tablet at the same time can be rather uncomfortable, unless you have a wall-socket right next to where you use it.
There's also the slim chance that the final retail units will ship with an USB 2.0 to USB 3.1 cable and you could charge the slate via the USB 3.1 slot, but I'm 99% sure that's not going to be the case here, because it would mean that Asus implemented two different charging systems on this tablet.
Since the device is USB powered, you can also charge it from an external battery.
Pricing and competition
The Asus Transformer Book T100HA is expected to start at $299 (299E in Europe) and the base configuration will include the Intel Atom X5-Z8500 processor, 2 GB of RAM and 32 GB of storage. Other configurations will get up to 4 GB of RAM and 128 GB of storage, with the most expensive options selling for a little over $400.
Now, if you plan to use this thing lightly and rely mostly on online services, the base model could be an option. Personally, I'd rather get a configuration with 4 GB of RAM and 64 GB of storage, it should handle everyday tasks much smoother and won't run out of space as quickly.
As for the competition, right now there are very few other slates built on Intel CherryTrail hardware, except for the more premium and more expensive Microsoft Surface 3. But there will be alternatives from Acer, Lenovo, HP, Dell and a few other OEMs in the next few months.
On the other hand, there are plenty of BayTrail devices out there and most of them are discounted these days. The Asus Transformer Book T100, the HP Omni 10 and the Acer Aspire Switch 10E are just some of the options to consider, while the Asus T100 Chi and the Acer Aspire Switch 10 2015 come in as more premium 10-inch options. Follow this link for more details on the available 10-inch Windows tablets and mini laptops.
Wrap-up
After spending a few weeks with the Asus Transformer Book T100HA, I'm sure this is one of the best 10-inch slates you can get these days in the $300 to $400 price range.
It looks beautiful and is strongly built, it packs a good screen, modern hardware and a large enough battery so it can last for 8-10 hours on each charge. It's not drastically better than the competition in any way, but it is a more polished device and does not have any major quirks, anything that could turn you away from it.
The T100HA is not for everyone though, as the performance might be lacking for some users and it's really compact, which means it has a small screen, miniaturized ports and a shrunk-down keyboard.
There is something else to consider as well. On one hand the T100HA is a more refined version of the older Transformer Books and other BayTrail devices, but it's not a significant improvement in terms of performance, battery life or even features. And when we look at it from this angle, there's a fair chance you will find better deals for your money among those previous generation 10-inchers in the months to come.
Still, if you want a recent model and especially the redesigned case and the USB TypeC port, the T100HA is going to be hard to beat. In fact, I think this is a better pick for the money than the more premium Asus T100 Chi, and I'd have it on my shortlist for the end of this year, especially since I expect to see it discounted in quite a few places around Christmas and the Sales period.
Disclaimer:
Our content is reader-supported. If you buy through the links on our site, we may earn an affiliate commission.
Learn more.