I've always been a fan of simple looking, business styled laptops. Dark colored cases, blunt corners, no stickers and fancy decorations, that's what I appreciate in a laptop.
The Asus PU551JA checks most of the above mentioned boxes. It's a 15.6 inch laptop, part of Asus's Pro line of business machines. It's not an ultraportable though, it's a regular device with a rather bulky body. And it's not a premium entry either, it's a laptop with basic features and specs, at least on this configuration tested here.
But even so, it offers fast hardware and the option to further upgrade it if you want to, a large enough removable battery and the option for an extra battery, the connectivity needed in business environments and a few extras on top, like the fingerprint reader and the matte display.
But are these enough to make it a good buy? Well, read the review till the end and you'll find out.
The specs – Asus PU551JA
Before we get in deep, let's have a look at the specs, so you'll know what we're dealing with here.
| | |
| --- | --- |
| | AsusPRO PU551 series – Asus PU551JA |
| Screen | 15.6 inch, 1366 x 768 px resolution, TN, matte, non-touch |
| Processor | Intel Haswell Core i3-4000M |
| Chipset | Intel HM86 |
| Video | integrated Intel 4600 HD |
| Memory | 4 GB DDR3 |
| Hard-disk | 500 GB 7200 rpm 2.5″ HDD |
| Connectivity | Wireless N, Gigabit Lan, Bluetooth 4.0 |
| Ports | 4 x USB, HDMI, VGA, LAN, card-reader, webcam |
| Baterry | 56 Wh, removable |
| Operating system | Windows 8.1 |
| Size | 380 x 256 x 28 mm |
| Weight | about 2.5 kg (5.5 pounds) with the 6 Cell battery |
Design and build quality
On a first look, this PU551 Asus laptop seems strong, robust, with its straight cut black case. And that's not just an impression, the laptop is actually sturdy built. But the exterior is made out of plastic, dark plastic that shows smudges easily. In fact, there's no metal at all on this notebook's body, but a matte plastic with a brushed textured finishing for the screen cover and the palm-rest, and other types of plastic for the interior and the underbelly.
The laptop is definitely thick by today's standards (1.2 inch), and heavy (5.5 lbs), so it's not something one could easily carry around. But the bulky body does lead to the stronger construction mentioned before and leaves room for a couple of goodies. Among them, the ports. There are fours USB slots on this thing, HDMI and VGA output, a LAN adapter, a card-reader and an optical drive, which can actually be swapped for an extra battery, if you want to (I can't say for sure how much that's going to cost though, this laptop is not yet available in stores). There's also a fingerprint-reader on the palm-rest's right side.
Lifting up the screen you'll notice the specious palm-rest with an ASUSPRO logo in the corner, the keyboard and the large trackpad, with dedicated click buttons. The power button sits in the upper left corner. The screen's frame is robust and the bezel made out of some matte plastic.
Nothing's fancy, everything is simple and well done on this thing and I appreciate Asus's attention to details here. For instance, the Asus logo under the screen is black, so it won't pop-out in any way, and the screen's frame has a few large and strong rubber pads, so it won't come in contact with the laptop's lower body when closed, but also a knob on the front, so you can easily lift up the display when needed.
On the other hand, some of you might not appreciate the spartan design and the sharp corners and edges that much. So design wise, this thing is not for everyone.
Screen
Last but not least we have the screen's hinges, again, firm and strong, able to keep the display in place exactly how you put it. Unfortunately though the screen can only lean back to about 140 degrees, which is OK for desk-use, but could be problematic otherwise.
And that's because the screen on this PU551JA is pretty bad. Asus went for a 15.6 inch TN panel with 1366 x 768 px resolution, and it's not one of the best such TN panels out there either. In fact, it's similar to what I've seen on the X555 line tested a few weeks before. The numbers below speak for themselves.
Panel HardwareID: Chi Mei CMN15BE;
Coverage: 66% SRGB, 47% NTSC,  50% AdobeRGB;
measured gamma: 2.1;
max brightness in the middle of the screen: 174 cd/m2 on power;
contrast at max brightness: 90:1;
white point: 6700 K;
black on max brightness: 1.90 cd/m2;
average DeltaE: 8.71 uncalibrated, 2.10 calibrated .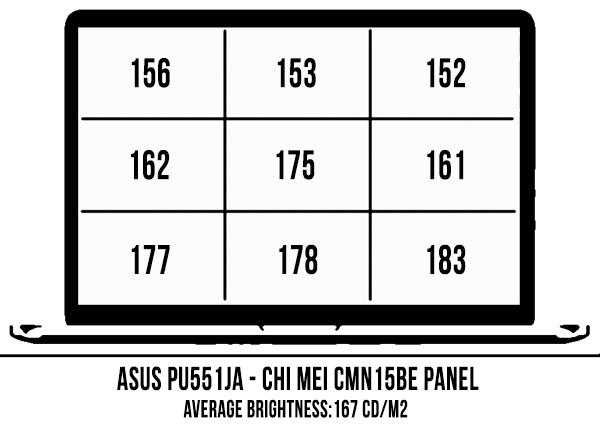 The colors are skewed out of the box, but a colorimeter can work wonders and tune them up nicely. There's nothing you can do about the panel's low brightness and contrast though, or about the narrow viewing angles usually associated with this type of displays.
As a final note, the display is not a touchscreen and is matte, so you won't have to worry about reflections. But that doesn't weigh much for a device that will probably live 99% of its life indoors anyway.
So yeah, to wrap this section up, the screen is pretty bad by today's standards. But when looking at the price and the competition, you'll see that there's not a lot better in this segment.
Keyboard and trackpad
A thick laptop like this one offers plenty of space for a proper keyboard, and that's one area where the PU551 delivers. Asus put a slightly different variation of the keyboard they are usually having on mid-range laptops, with full-size letter keys and a narrower NumPad Area.
However, there are a few things I appreciated about this iteration. First, the Arrow keys are big enough and nicely spaced. Second, the bottom row of keys is taller than the others, which makes for large Space, CTRL, Windows keys, you know, the ones you're going to use often everyday day. On top of that, the keys on the upper row are small, but that leaves room for all the important ones towards the top-right side, especially since the Power key is not integrated within the keyboard anymore.
Alright, so the layout is fairly good here. And the feedback is even better. The keys are firm and travel deep into the frame, thus deliver an excellent typing experience, similar to the keyboards on Asus's N and G series laptops. They do feel a bit cheap, plasticky though, and there's no illumination system, but let's not forget the price range we're swimming in.
The trackpad sits beneath the keyboard, centered under the Space key. This is not a clickpad though. The large enough touch surface does support taps and gestures, but for physical clicks you'll rely on the actual buttons beneath. And they make a huge difference over any of the clickpads I've tried in the past years.
The actual touchpad is made of plastic, but it's smooth and accurate. Unfortunately, it's also laggy from to time, as I swipe my finger over it and the cursor barely moves half an inch. But that doesn't happen often. To get in depth, Asus put an Elan ETD0105 pad on this laptop, which we've encountered on laptops like the N550JK in the past and got its share of negative reviews.
Hardware and everyday use experience
All these aside, let's see what this laptop can do for you. It's worth noting that I only have the base configuration of the PU551JA here, with a Core i3-4300M processor, 4 GB of RAM and a 500 GB 7200 rpm HDD. There's no dedicated graphics.
This series' particularity are the full-voltage processors it bundles, which translate in better overall performance. The i3 is the slowest model available, but still enough to handle everyday use well. Browsing, editing documents, listening to music, streaming 1080p content from Youtube, watching 1080p .MKV movies and even playing some older games are all possible on this laptop, as long as you don't run too many things at the same time.
Loading times aren't great, as there's only a HDD inside, but they are decent. And if you want to, you can upgrade the RAM (up to 16 GB) and the storage drive. You'll have to remove the laptop's back for that, which is hold in place by a few standard Philips screws (there are some screws beneath the battery and some behind the rear rubber feet, make sure you take care of all of them before trying to remove the back-plate).
Having a look at the internals, you'll notice that accessing the HDD is not as easy as you might expect, since there's a connector going over it. The two RAM slots are easily accessible though, and you'll also notice the Wi-Fi module and the spare socket next to the CPU, which will take a Nvidia graphics chip on some of the higher end configurations.
I've ran a few benchmarks on this laptop and the results are below.
3DMark 11: P848;
3DMark 13: Ice Storm – 39147, Cloud Gate –4206, Sky Driver – 2476, Fire Strike – 514;
PCMark 08: Home Conventional – 2198;
CineBench 11.5: OpenGL 15.79 fps, CPU 2.59 pts;
CineBench R15: OpenGL 21.73 fps, CPU 239 cb.
I also played some games, on 1366 x 768 px resolution with Low details across the board, and here's what you can expect. Don't forget there's no dedicated graphics on this laptop, so you're relying on the Intel HD 4600 chip for anything graphics related, integrated within the processor.
| | |
| --- | --- |
| | 1366 x 768 Low details |
| Dirt 3 | 38 fps |
| Grid 2 | 34 fps |
| Tomb Raider | 31 fps |
| Bioshock Infinite | 18 fps |
| Metro Last Light | 13 fps |
As a final note, I put the laptop to stress with Prime 95 and Furmark and have noticed absolutely not throttling at all, with both the CPU and the GPU running at max-frequencies even when stressing both at the same time. See the pictures below for more details.
Temperatures, Noise, Wi-Fi and others
The laptop runs cool and quiet most of the time. There's a single fan inside. Air is sucked through the grills on the belly and blown out through the grill on the right. And on this particular lower-end configuration, nor the inner components or the case reach high temperatures.
*Daily Use – 1080p Youtube clip in IE, for 30 minutes
*Load – Prime95 + Furmark for 30 minutes
I would expect the more powerful models to throttle under stress and definitely get hotter, but even those should do well when it comes to temperatures, as the laptop is thick enough to provide enough space for the air to flow and cool the hardware properly.
When it comes to connectivity, there's Gigabit LAN on this laptop, Bluetooth and Wi-Fi. Asus went for an Atheros AR9565 wireless N chip which is fast enough for daily use, but does not support AC speeds. On the other hand, the signal remains strong even a bit further away from the router with obstacles in between, and the speed doesn't drop much, which I just what I would expect from the 15 inch laptop with a plastic shell.
I should also mention the speakers, placed on the laptop's belly. They are loud for sure and don't distort at high volumes, but the sound quality is only average, with little bass.
Last but not least there's the webcam on top of the display, with a microphone next to it. The images coming out of it are grainy and washed-out, so make sure there's plenty of light around when you'll want to use it.
Battery Life
Asus put a 6 Cell 56 Wh battery on this laptop, easily removable and replaceable, and here's what you should expect from it:
5.2 Wh (~10 h 40 min of use) – idle, Power Saving Mode, screen at 0%, Wi-Fi OFF;
6.2 Wh (~9 h of use) – very light browsing and text editing in Google Drive (HDD inactive), Balanced Mode, screen at 70%, Wi-Fi ON;
9.3 Wh (~6 h of use) – 1080p video on Youtube in Internet Explorer, Balanced Mode, screen at 70%, Wi-Fi ON;
10 Wh (~5 h 30 min of use) – 1080p .mkv video on VLC Player, Balanced Mode, screen at 70%, Wi-Fi ON;
11.5 Wh (~4 h 50 min of use) – medium browsing in Internet Explorer, Balanced Mode, screen at 70%, Wi-Fi ON;
13 Wh (~4 h 20 min of use) – 1080p video on Youtube in Chrome, Balanced Mode, screen at 70%, Wi-Fi ON.
The laptop comes with a compact 65Wh brick and charges fully in about 2.5 hours.
Asus will also offer an extra 3 Cell 31 Wh battery for this device, which will boost the numbers above by about 50%. This extra battery replaces the optical drive, but in order to get in installed you'll have to pop-out the entire back panel and unscrew the optical drive, and then put the battery in place. Some versions will come with these two batteries by default. It's worth mentioning that adding the extra battery will also add several hundred grams to the laptop's total weight.
Pricing and availability
The Asus PU551JA will be available in a few different configurations, with either a Core i3-4000M, a Core i5-4210M or a Core i7-4712HQ processor, 4 to 16 GB of RAM and 500 GB or 1 TB HDDs. The cheaper models will include the HD TN panel found on the model tested here, while higher end versions will bundle a FHD display (can't say whether it's a TN or an IPS panel yet though).
Regardless, all these laptops are expected to land in store by the end of this year and I'll update this section with configurations and prices as soon as possible. For now, I estimate the base version of the PU551JA will start under $600, but take this with a grain of salt. Will keep you posted.
Aside form these PU551JA models, Asus also offers the PU551LAs and PU551LDs built on Haswell Core U hardware. Both share the chassis and outer aspects with the laptop reviewed here and will offer a FHD IPS matte display, with the only major difference between them being the graphics chips inside: the LA models won't get any dedicated graphics, while the LD will get an Nvidia 820M chip.
Wrap up
At the end of the day, the Asus PU551JA presents itself as a decent 15.6 inch laptop. A bit bulky and heavy for my liking, but with a simple style, a good keyboard and trackpad, an easily replaceable battery and strong IO. This base configuration is powerful enough for daily use, thanks to its full-voltage processors inside, but can only do that much and is in my opinion severely disadvantaged by the poor screen it packs.
On the other hand, the higher end options with faster processors and graphics, more RAM and a FHD display, those should be worth at least a look, if the price is going to be right.
Even so, keep in mind the PU551JA might not be for everyone. It's strong selling points are the spartan design, the powerful full-voltage platform and the matte screen. If you need those in a computer and don't care much about portability, then this device could be what you're looking for, if not, there are plenty of other fishes in the pond.
Disclaimer:
Our content is reader-supported. If you buy through the links on our site, we may earn an affiliate commission.
Learn more.