I feel like I've neglected one of the best new additions to the netbook world available lately, the Asus 1015PED EEE PC.
This is in fact the new top mainstream 10 inch netbook from Asus and the successor of the Asus 1005PE, one of the best in its class for many months and a bestseller in the US throughout the first half of 2010. It has a big crown to carry and it seems to manage to do it quite well.
But, enough about the past, let's talk about the present and future, which is this Asus EEE PC 1015PED. First, let's have a look at the specs:
Intel Atom N475 1.83 GHz processor + Intel GMA 3150 graphics
1 GB of memory (easily upgradeable to 2 GB)
250 GB hard-drive (2.5″ 5400 rpm) + 500 GB free EEE Storage online
10.1 inch LED backlit display, matte, 1024 x 600 px
3xUSB 2.0 ports, 0.3 MPx webcam, card-reader, VGA output
Wi-Fi N and Bluetooth 3.0
6 Cell 66 Wh battery (up to 13 hours of life)
Windows 7 Starter OS
measures 10.31 x 7.01  x 0.93 ~ 1.43 inches and weighs around 2.75 pounds (with battery on)
available in 4 colors: black, white, blue and red (all with matte finishing)
I have to say that there are actually two different options for this netbook. The above specs are for the Asus 1015PED-PU17. Also, there's a cheaper version, the Asus 1015PED-MU17 which comes with the N455 1.66 GHz processor and a smaller 10 hours 6 Cell 48 Wh battery. However, the price difference between the two just doesn't justify going for the cheaper version (details about prices further below).
Now, in terms of specs, this is top notch and you can't get better on a 10 incher for now. However, as I've always said here on this site, there's a lot more about buying a laptop than just specs. So here's where the Asus EEE PC 1015PED impresses:
build quality and design: as we've seen on other Seashells, this is once again top notch. In fact, the EEE PCs are the ones to set the standard in terms of quality and care for details in this class, and you can easily see that on the 1015PED.
matte casing: this is something we've been waiting for a very long time, a proper Asus netbook with a matte case, and we finally have it. The 1015PED comes with a soft rubber-like finish, for both the outside part and the interior (including palm rest and areas around keyboard; area around display is still glossy), so bye bye scratches, fingerprints and smudges.
matte display: finally we have it too. It's the classic 10 inch LED backlit screen we've seen on Asus netbooks, with 1024 x 600 px resolution, only this time it's matte, so you will be able to actually use it outside or in stronger light conditions, without only seeing your reflection in it
good keyboard and improved trackpad: the previous generation 10 inch Asus netbooks brought the 92% Full-Size keyboard, which is one of the best in its class. It was kept for the 1015PED, while the trackpad was improved: It's now smoother, wider and bigger (so there's more room to perform multitouch gestures). However, that click button still ain't the best; it would have been great if Asus went for one with individual right/left click buttons.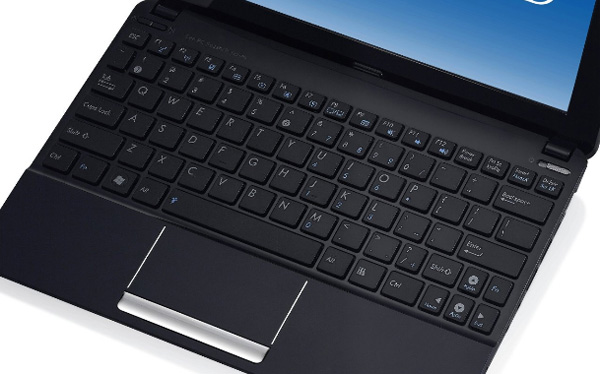 good hardware and improved performance: the N475 processor is the fastest you'll get on a mainstream 10 incher right now and since we know netbooks aren't that fast, every little bit of extra is worth it. Plus, it now comes with support for DDR3 memory so you should see improvements in everyday performance from your older machine. And you might even run HD content (720p) with the right programs and codecs.
good battery life: Asus kept the big battery on their top 1015PED and route for up to 13 hours of life. That's not really true in real life use, but you can expect around 8 to 10 hours, based on what do you plan to do (probably slightly less if you plan to watch HD movies), which is still more than competition can provide.
good connectivity: you get Wi-Fi N which is pretty standard these days, but also Bluetooth 3.0, that will come in handy if you sync your mobile devices with your netbook
good speakers: unlike on most other netbooks, speakers on Asus machines are quite good, both in terms of quality and volume. They are not extraordinary, but will be enough to satisfy most of you guys
prices are still very very good: details below
Ok, so about prices. Surprisingly, the new generation Asus 1015PED is better priced than its predecessor. Like I've said, you get two different configuration options:
Asus 1015PED-PU17 –

$369

$359 with Free Shipping included(with N475 1.83 GHz processor and bigger up to 13 hours battery)
Asus 1015PED-MU17 –

$330 with Free Shipping included

(with N455 1.66 GHz processor and smaller up to 10 hours battery)
All the other features and specs are the same and both options are available in 4 different colors. Now, performance wise, there will be differences between the two, just don't expect them to be easily noticeable. In terms of battery life though, if the PU17 will last around 8-10 hours during everyday use, the MU17 will probably last more like 7. Thus, given the small $30 difference, I really don't consider the cheaper version worth it right now.
The above mentioned netbook are available for US only. If you're living in UK, the PED ain't available for you, but you do get the Asus 1015PE (which is the same, only with N450 processor and DDR2 memory) and the Asus 1015P (which comes with a textured matte casing, thus better for rougher conditions).
Of course, the 1015PED is not perfect, no computer is. My biggest concern is that click button, which I fear it is as bad on the 1215N. However, I haven't seen it in action yet (if any of you guys have this and could share some light on this matter, I would really appreciate it) and you can still get used to it anyway. Also, there's that poor 0.3 MPx webcam, which does its job, but ain't the best out there. Some of you might also be bothered by the limitations of Windows 7 Starter, but that's the OS offered with all 10 inch machines, so there's not much you can do about it except going for an upgrade to Home Premium.
Of course, in order to make the device better, I do advice upgrading memory, which is actually quite easy to do (there's a bay on the back, you unscrew it and replace the 1 GB module with a 2 GB one). Of course, that won't void your warranty or anything like this. I also recommend getting a proper netbook case as well, you'll find it a valuable acquisition in time, especially when traveling.
All in all, the Asus EEE PC 1015PED is right now on of the best mainstream 10 inchers. And by mainstream I mean devices with great features/price ratios. It is also a part of the best 10 inch netbooks list here on the site, where you can check out the other top picks available at the moment. Like you can see, this is not exactly a review of the 1015PED as this particular version is not actually available in my country yet. Still, I'm trying to get my hands on one of them and in the mean time, you can see the reviews it scored with buyers via this link.
Of course, if you have questions or just something to say, don't hesitate and leave a comment bellow, and I'll do my best to help if possible.
Disclaimer:
Our content is reader-supported. If you buy through the links on our site, we may earn an affiliate commission.
Learn more.