The Samsung Galaxy Alpha is the first of hopefully a long series of long awaited metallic Samsung smartphones. Well, partially metallic at least.
On paper, this one is not exactly a top-tier smartphone, as it cuts a few corners here and there, but in real life it's actually a really good device an most of the time, a fair match for the Galaxy S5 flagship, as you'll find if you'll stick with me for the next few minutes.
There's a video below taking you through all the important aspects you should have in mind when pitching the Alpha against the S5, but you'll find a few extras in the post as well.
Samsung Galaxy Alpha vs Galaxy S5 on video
Design and first contact
The first thing you'll notice when having these two side by side is how compact the Alpha feels next to the S5. That was expected, since it only packs a 4.7 inch screen, as opposed to the 5.1 inch one on the other Galaxy.
The Alpha is also slimmer and lighter, as shown in the specs list. But the big novelty here is its metallic frame, thicker towards the top and the bottom and slimmer on the sides, which helps keep the width of this one down.
The back of the Alpha is still covered in polycarbonate, with a more subtle dimpled texture than on the S5, and is still removable, hiding the battery and SIM tray behind, but no card-slot.
Its edges are however made of aluminum, with nicely beveled sides. They are actually a major improvement from the chromed plastic rim of the Galaxy S5 and not just aesthetically. The Alpha also feels much sturdier than the S5, as it no longer squeezes and squeaks when grabbed firmly.
All these combined make the Alpha a more enjoyable phone to hold and use everyday. I personally am a big fan of the smaller form factor and don't really mind the plastic back, as its smooth rubbery finishing actually makes the device more grippy than others made entirely out of metal, like the HTC One M8 or even the iPhone 5S.
On the other hand, it's important to mention that the S5 is water and dust-proof and if that's important to you, than the Alpha can't compete.
When it comes to minor features, both phones get a fingerprint reader integrated withing the Home Button and a heart-pulse reader on the back. but the S5 gets a few extras, like the IR Blaster on its top edge and the microUSB 3.0 slot.
Screen
Perhaps my one gripe with this new Samsung smartphone is the screen's 1280 x 720 px resolution.
Don't get me wrong, this is actually really OK for everyday use, but fonts do look slightly fuzzy, which you'll notice if you're already used to higher density screens. If you're coming from an older device though, that should not be a problem at all.
Other than that, the Alpha's screen is a fair match to the S5's. Both make use of AMOLED panels with Pentile matrixes, both impress with their blacks, viewing angles and contrast, both are still fairly bright for outdoor use and both over-saturate colors.
Hardware and performance
Hardware wise, the Alpha is motorized by an Exynos 5430 octa-core processor, while on this version of the S5 there's the Snapdragon 801 chip, both paired with 2 GB of RAM.
And the Exynos core is really competitive, holding well against the Qualcomm option in benchmarks and everyday use, and even out-matching it in quite a few cases.
| | | |
| --- | --- | --- |
| | Samsung Galaxy Alpha specs | Samsung Galaxy S5 specs |
| Screen | 4.7 inch, 720 x 1280 px, Super AMOLED panel | 5.1 inch, 1080 x 1920 px, Super AMOLED panel |
| Hardware | Samsung Exynos 5 Octa 5430 + Mali T628 MP6 graphics | Qualcomm Snapdragon 801 MSM8974AC 2.5 GHz + Adreno 330 graphics |
| Memory | 2 GB RAM | 2 GB RAM |
| Storage | 32 GB | 16/32 GB + microSD cards up to 128 GB |
| Connectivity | 4G/LTE, Wireless AC, Bluetooth 4.0, GPS, NFC | 4G/LTE, Wireless AC, Bluetooth 4.0, GPS, NFC |
| Ports | microUSB 2.0, nano-SIM | microUSB 3.0, micro-SIM, microSD, IR |
| Cameras | 12 MPx main camera, 2.1 MPx front camera | 16 MPx main camera, 2 MPx front camera |
| Battery | 1860 mAh, removable | 2800 mAh, removable |
| OS | Android 4.4.4 KitKat | Android 4.4.2 KitKat |
| Size | 132.4 x 65.5 x 6.7 mm (5.21 x 2.58 x 0.26 inches) | 142 x 72.5 x 8.1 mm (5.59 x 2.85 x 0.32 inches) |
| Weight | 115 g (4.06 oz) | 145 g (5.11 oz) |
| Others | metallic edges, side-mounted speaker, 4K video recording | back-mounted speaker, IP67 certified, 4K video recording |
At the end of the day though, both devices cope well with all sorts of daily tasks, movies, games and so on. The Alpha does offer imh a more consistent experience, while the S5 still encounters occasional hiccups and that's probably thanks to having fewer preinstalled apps on this version of the Alpha, that only features a few Samsung proprietary programs, like S Health and S Voice, but also thanks to the lower resolution screen.
However, you should keep in mind that the Galaxy Alpha comes with 32 GB of storage space and there's no way to expand that, while the Galaxy S5 is available with either 16 or 32 GB of storage and supports microSD cards.
And one other thing worth mentioning, the Galaxy Alpha gets warm quicker than the S5 and its screen and frame reaches higher temperatures, which could be a problem if you're living in a hot environment.
Battery life
Both phones offer removable batteries, but the one inside the Alpha is quite small, with a capacity of 1860 mAh, while the S5 gets a 2800 mAh one. So there's really no surprise that the S5 outlasts its rival when it comes to endurance, as it can go for 2 days of moderate use quite easily, but the Alpha does not trail-back far.
It can still provide at least one full day of daily use and can even reach the end of the second day in most cases, which is surprising given its small battery. The Alpha does provide at least 2 days of average use and even more. Of course, both devices offer power saving and Ultra Power Saving modes.
Cameras
Last but not least we should talk about the cameras. On one side, both feature 2 Mpx front-facing shooters.
On the other, there's a 12 MPx main-camera on the Alpha, while the S5 gets a 16 MPx sensor, with a few minor improvements and extra features.
Both phones get the same camera interface, shooting modes and manual-tweaks and what really matters, both actually deliver really good pics and videos, especially in proper light.
I've added a few samples for you to compare below, but keep in mind that I've used a pre-production version of the Alpha for these tests, so the results might actually be even better on the final retail units. The S5 is exactly the one you can buy in stores right now. None of the pictures were edited in anyway, just cropped to fit the template.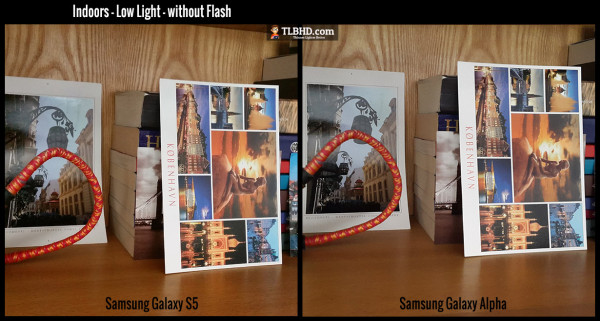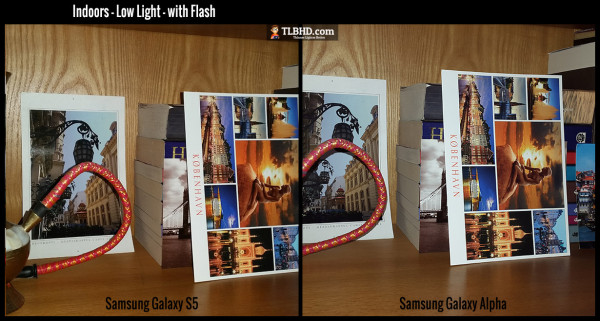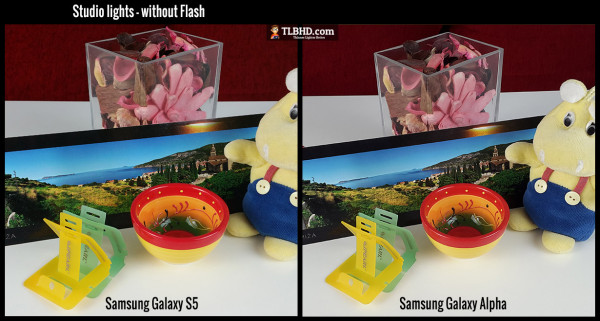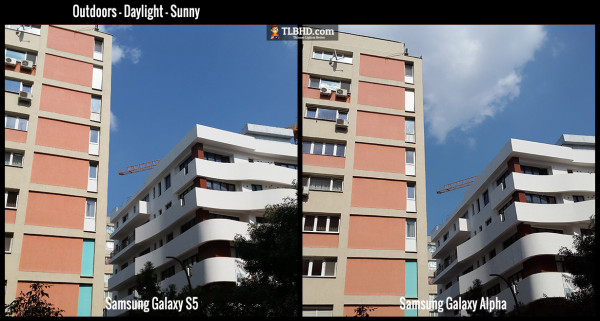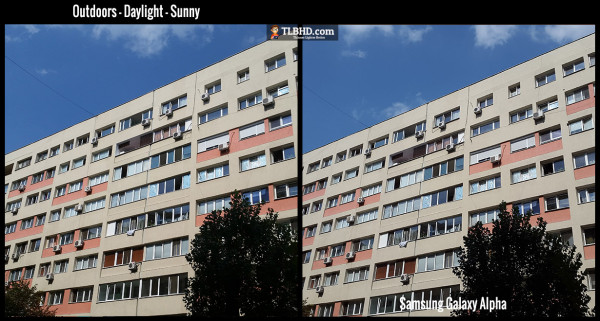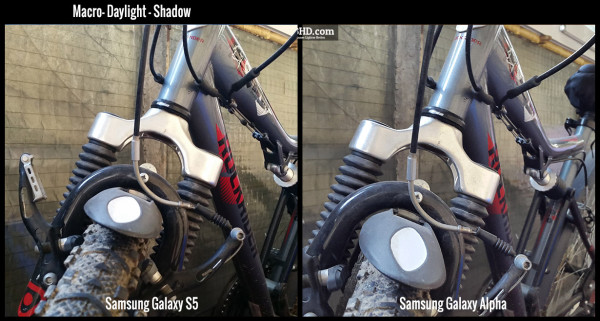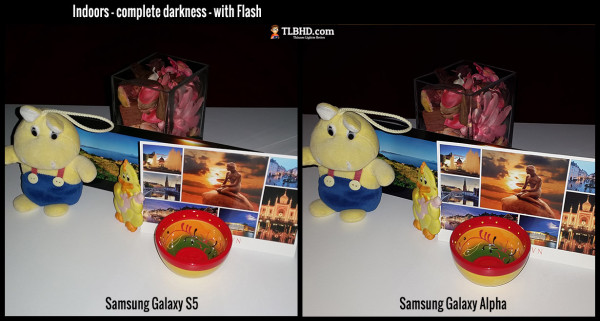 Wrap-up
Long story short, on paper the Samsung Galaxy Alpha might not look like a worthy competitor for the S5. It only packs a 720p screen, a small battery, a poorer camera and there's no way to expand its storage space.
But in reality the Alpha is surprisingly close to Samsung's flagship, plus gets really fast hardware and a redesigned body partially made out of metal. The lower-resolution screen is actually not as bad as it might sound and it does have a positive impact on speed and battery, plus indirectly on the Alpha's size and weight.
In the end, choosing one over the other is entirely up to you. The S5 still holds its fair shares of aces down its sleeve, but the Alpha has its strong points and is a good option for those of you looking for a more compact premium Android handset.
You'll find out more about both of these from my detailed reviews available here on the site and if you have any questions or need help deciding between them, the comments section below is open and I'm around to reply.
Disclaimer:
Our content is reader-supported. If you buy through the links on our site, we may earn an affiliate commission.
Learn more.